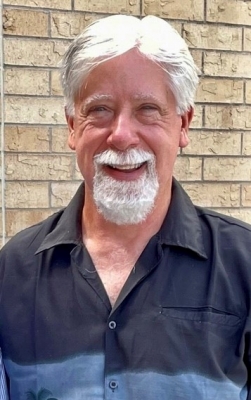 Dan Paul Kneeland, 67, passed away on November 23rd, 2022, at his home in Menomonie, WI. He was a beloved father, grandfather, brother, uncle, devoted husband, and great friend to many.
Dan was born in Olivia, MN on February 8th, 1955, to Mary Elizabeth Berg and Donald Burton Kneeland. After graduating from Olivia High School in 1973, he joined the United States Air Force with stints in Texas, North Carolina, and Denver before transferring to Grand Forks where he and his first wife, Mary (Tersteeg) Trick lived for three years until they moved to Willmar, MN and had a daughter, Michelle Marie. Though Dan and Mary divorced, his relationship and lifelong friendship with Michelle was his greatest treasure. To him, Michelle hung the moon.
When Dan left the Air Force, he earned an Associate of Arts Degree from the University of North Dakota and then graduated from Willmar Vocational School in Drafting. Dan made a career as a computer engineer at Andersen Windows in Stillwater, MN for 25 years.
In 2009, Dan married the love of his life, Heidi Jo. Two peas in a pod, Dan and Heidi formed a life immersed in time with friends and their co-mingled families. Known for dropping everything to spend time with their kids and grandkids, Heidi and Dan also enjoyed all that nature offered on Lake Tainter - fishing, boating, bird watching, and gardening along the shore.
Dan's zest for life was unparalleled. Anyone who was fortunate enough to meet Dan left with a smile on their face, a new joke to share with others and warmth in their heart. His quick-wit, authenticity, passion and caring for friends, family, and love for music and the Lord, filled his days. Some of his favorite activities included attending concerts, competing in weightlifting competitions, collecting memorabilia and vintage cars, volunteering at the local food shelf, vacationing annually in the Florida Keys, and many trips to watch his grandsons play soccer and tennis. Although Dan left us too early, we are comforted by the wonderful memories made and the laughs he shared with so many. Dan's legacy is one of living every day to the fullest and loving with all your heart.
Dan was preceded in death by his parents, Mary and Don, and his brother, Dave.
He is survived by his wife of 13 years, Heidi Neumann, his children, Michelle Kneeland Barbeau, (Justin), Natalie (Noah) Helgerson, Mathew (Merissa) Marcussen, Christopher Marcussen and three grandchildren, Owen Donald (16) and Brody Paul (13), Finley Helgerson (2), his sister Kris (Kneeland) Potter (Dean), and several nieces, nephews and cousins.
Visitation will be held from 10:00 to 11:00 AM, Saturday, December 3, 2022, at St. Aloysius Catholic Church in Olivia, MN.
Funeral Mass will be held at 11:00 AM, Saturday, December 3, 2022, at St. Aloysius Catholic Church in Olivia, MN with a gathering to follow at noon at American Legion, 2540 W Lincoln Ave. Olivia, MN 56277
Donations are welcome to one of the following organizations where Dan volunteered and supported:
Stepping Stones Shelters of Dunn County - Steppingstonesdc.org
Nami - Nami.org