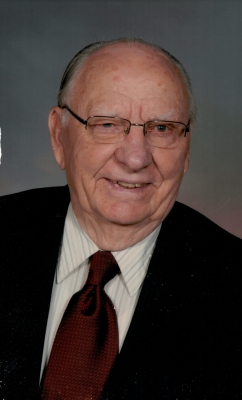 Lewis R. "Lud" Bauer, age 95 of Durand, passed away peacefully at his residence surrounded by his family.
Lud was born on January 23, 1927 to Joseph A. and Rose (Danzinger) Bauer. He grew up on the family farm with his eight brothers and three sisters. Lud was one of eight of the 1944 graduating class from Sacred Heart High School in Lima. He enjoyed telling people his graduating class only had four girls and four boys. On May 30, 1950 Lud married his life partner and best friend, Lois Bauer. Their marriage made it into Ripley's Believe It or Not Book as they were both Bauers, living 10 miles apart in the Town of Lima and not related. Once married, they made their home in Durand. There they raised their three sons and maintained close contact with the Bauer families.
At the core, Lud's faith and focus on family guided his life. He was an active member of the St. Mary's Assumption Parish in Durand. Lud was a member of the Knights of Columbus, he participated in church choir and he and Lois were active leaders in the Love of Life program.
Lud wore many hats during his work history. These included, working at a gas service station, driving semi for the Durand Cooperative, working at Schaul's Gas, and ending his career with the Wisconsin Gas Company. He also continued to help relatives with their farm field work. He had strong work ethic and the ability to fix almost anything. Lud took great pride serving the Durand Volunteer Fire Department for 25 years.
Lud and Lois loved to travel and often took bus trips with friends to see the country. Their other great passion was playing cards. For years they enjoyed card parties with friends and relatives playing 500, euchre and pieffer. Lud and Lois also loved to dance, Polkas and Waltz were their favorites.
Lud had 95 full and happy years on this earth. He was a member of the "greatest generation" and left a legacy for his sons and families to uphold. He was a very good man and he will be missed.
Lud is survived by his three sons, Terry (Shari Puyleart), Tom (Julie) and Dennis. His brother Arnie and sister, Sr. Rosalia Bauer FSPA. Grandchildren, Brooks (Melissa), Mitch T. (Karri), Brittany, Nicole (Mitch Dannenberg), Heather (Troy Traxler), Matt (Jeanie), Joe (April Flowers), Jacob (Madi Barnet), Grant (Roxanne), Kelsie (Chris Beckfield). Great grandchildren, Mason, Ian, Piper, Parker, Paxton, Preston, Emery, Finley, Eleanor, Lydia, Vivian and Vincent.
He was preceded in death by his parents, six brothers, two sisters, his wife of 63 years, Lois and daughter-in-law, Kathy. As well as many other relatives and friends.
The family would like to extend our thanks to the caregivers who made it possible for Dad to live independently until the end. Julie, Audrey, Nicole, Lori, Kali, Mia, Sami, Heather and Donna. Also special thanks to St. Joseph Hospice team and in particular Pastor Mark and nurse John Froelich.
Funeral Mass will be 11:30AM Tuesday, December 13, 2022 at St. Mary's Catholic Church in Durand with Rev. Timothy Reither and Deacon Randy Bauer officiating. Burial will be in the church cemetery. Visitation will be 10:30AM until the time of services at the church on Tuesday.
In lieu of flowers, we ask that you please make a gift of your time, talent, or treasure to an organization or charity in honor of our Dad.
Rhiel Funeral Home & Cremation Services, Durand, is serving the family.