Lawrence "Larry" A Kalina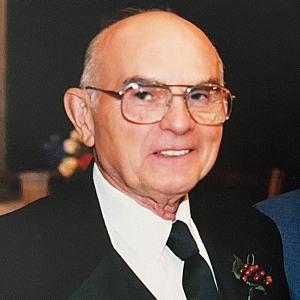 Lawrence "Larry" Andrew Kalina
| 1926-2022
Long-time outdoorsman, barber and family man Lawrence "Larry" Andrew Kalina, 96, Menomonie, died peacefully in his sleep at Colfax Health and Rehabilitation Center in Colfax, Dec. 11, 2022, following medical treatment for recent health issues.
Born March 17, 1926, in Phillips, Wisc., the son of John and Anna (Mihulcova) Kalina, he served as a corporal in the 151st Engineer Combat Battalion in the U.S. Army during the Korean War 1950-52.
He married Barbara Ann Porter, April 20, 1955, in Richmond, Va., and was a member of St. Joseph's Catholic Church, in Menomonie.
He worked at several manufacturing jobs and as a barber in Chicago, and after moving back to Wisconsin, owned and operated Larry's Barber Shop on Main Street in Menomonie from 1962 to 2007.
An energetic personality, Larry was an avid hunter, fisherman and gardener. Besides playing the accordion and harmonica, he enjoyed cards, especially cribbage.
He is survived by his wife, Barbara, five sons: John (Michelle) Kalina, Anoka, Minn., Lawrence Jr. (Teresa) Kalina, Houston, Texas, Matthew (Lisa) Kalina, Scottsdale, Ariz., Paul (Jane) Kalina, Houston, Texas, and James (Kim) Kalina, Minneapolis, Minn., one grandson, Stephan Kalina, and many nieces, nephews and friends.
He is preceded in death by his four sisters: Helen Augustine, Clementine Strok, Anna Mack and Mary Bryja; and by six brothers: Louis Kalina, John Kalina, George Kalina, Martin Kalina, Albert Kalina and Joseph Kalina, and by an infant brother and an infant sister.
In lieu of flowers, memorials may be made to, Defenders of Wildlife, Nature Conservancy; The Trees Remember and Wildlife Conservation Society.
Funeral services will be held at 10:30 AM Tuesday December 20, 2022, at St. Joseph Catholic Church in Menomonie, Wisc., with Rev. John Mano officiating. Burial will be in the Northern Wisconsin Veterans Memorial Cemetery in Spooner, Wisc.
Visitation will be held from 4:00 to 7:00 PM Monday at Rhiel Funeral Home in Menomonie and one hour prior to services at the church on Tuesday.