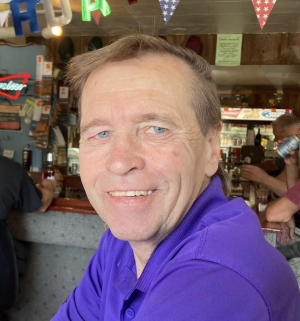 Robert L. Bauer, age 66, of Nelson died Saturday, December 17, 2022 at Gunderson Lutheran Hospital in La Crosse with his children by his side.
Bob was born on July 16, 1956 in Durand. He was the son of Bernard A. and Darlene P. (Snyder) Bauer. Bob grew up in Durand and graduated from Durand High School in 1974. Bob married Janice Doughty December 28, 1974. Together they had three children and later divorced. Over Bob's working career, he worked at Durand Plant Foods (Gene Phillips), Komro's Sales and Service and Boelter Industries. Bob lived in Nelson for over 20 years. He was a fun loving father, grandfather, brother and uncle. Bob was always willing to help anyone, especially his neighbors.
Bob enjoyed fishing, watching the Packers, telling jokes and music. He liked spending time in his garage with his music on while tinkering with projects. Bob loved spending time with his family, friends and his sidekick Opie.
Bob is survived by his children, Donovan (Amy), Cheryl Henry, both of St. Charles, MN and Leann (Ronnie) Edgemon of Elmwood; wife, Cheryl Bauer; step-children, Nick Pretzer, Jeremy Pretzer, Lucas Pretzer and Stacy Pretzer; 12 grandchildren, two great grandchildren, siblings, Steve (Georgia) of Durand, Rose (Gary) Sabelko of Mondovi, Mike (Marge) of Wichita, KS, Joe (Jan) of White Bear Lake, MN, Dan (Sandy) of Durand, Lily (Rick) Hanson of Bloomer and Bev (Roger) Sabelko of Mondovi; his dog, Opie; nieces, nephews, other relatives and many special friends. He is preceded in death by his parents, Bernard and Darlene.
The family would like to send a special thanks to Gunderson Lutheran Hospitals in both Wabasha and La Crosse.
Prayer Services will be 3:45PM Thursday, December 22, 2022 at the Rhiel Funeral Home in Durand. Visitation will be from 4:00PM-7:00PM at the Rhiel Funeral Home in Durand.
Rhiel Funeral Home & Cremation Services, Durand, is serving the family.