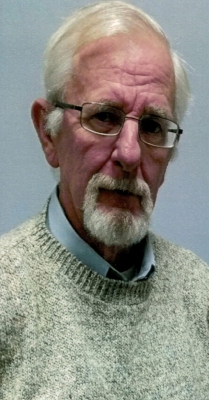 Danny D. Kaempf, age 77 of Durand, died peacefully Tuesday, December 13, 2022 at Loving Residence in Red Wing, MN after suffering a lengthy progressive neurological decline.
Danny was born on April 13, 1945 at the hospital in Plum City. He was the sixth child of Otto and Lucille (Rice) Kaempf, his siblings gave him the nickname of, Enough! Danny grew up in Plum City and graduated from Plum City High School in 1963. After high school, Danny joined the U.S. Navy and served in Vietnam on the USS Forrestal. He was onboard the Forrestal on July 29, 1967 when there was a massive explosion that killed many US Sailors. After being honorably discharged, Danny spent his career working for Weiser Concrete as a ready-mix operator and truck driver. On February 13, 1982, Danny married Sharon "Sheri" (Wekkin) Plummer at Our Savior's Lutheran Church in Ellsworth. He happily inherited a readymade family of seven children and later 24 grandchildren and 17 great-grandchildren.
Danny enjoyed spending time outdoors, hunting, both gun and bow, spending time landscaping, being in his garden, camping and snowmobiling. He was also passionate about watching NASCAR racing, the Packers and traveling the country, most of the time in a Weiser Truck!
Danny is survived by his children, Laura (Greg) Zrust of St. Paul, MN, Becky Rogers of Platteville, WI, Kathy (Joe) Betzel of River Falls, WI, Jeff (Lisa) Plummer of Ellsworth, WI, Joe (Mary) Plummer also of Ellsworth, WI, Darla (Mike) Mihalik of Kewanna, IN and Nona (Paul) Tomas of Hager City, WI; 24 grandchildren; 17 great-grandchildren, siblings, Diane Hancock, Linda Johnson, Marlo (Sam) Kaempf and Larry (Harriet) Kaempf, nieces, nephews, other relatives and friends. He is preceded in death by his parents, wife, Sheri and one sister Lavonne Lehman.
Memorial Services will be 11:00AM Tuesday, December 27, 2022 at Durand United Methodist Church in Durand with Rev. Dave Kymm officiation and Military Honors provided by the Plum City American Legion Post #365 in Plum City. Burial will be in the Forest Hill Cemetery in Durand at a later date. Visitation will be held from 10:00AM until the time of services at the church on Tuesday.
Memorials may be made in Danny's name to the Durand United Methodist church.
Rhiel Funeral Home and Cremation Services, Durand, is serving the family.