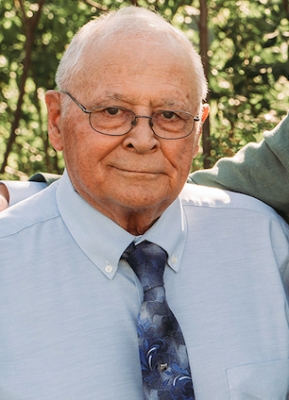 Robert E. Pelke, age 85 of Durand, died Friday, December 30, 2022, at his home with his loving family by his side.
Bob was born May 12, 1937, in Plum City. He was the son of Oscar and Lucy (Schlosser) Pelke and grew up in the Exile area. Bob graduated from Elmwood High School in 1955. He met his future wife, Audrey Anibas, roller skating at the Arkansaw Rec Hall and they were married on February 4, 1961. After marriage, they moved to the Madison area and Bob worked road construction for several years. They later returned to the Durand area where Bob drove truck for Bill's Distributing. Over the years, he had many other side endeavors, including operating his own trucking company. In 1971, Bob purchased a farm in the Township of Dunn, rural Eau Galle, and farmed for twenty years. In 1991, they moved to the Town of Waubeek, where he remained for the rest of his life.
Bob was a multi-talented handyman. He could fix and make just about anything, and could often be found working on one of his many projects in his shop. Bob enjoyed traveling, but particularly enjoyed driving through the local area and looking at the surrounding farms. He enjoyed spending time with family and friends, and always had a cold beer and a story to share with them, especially stories about farming.
Bob is survived by his wife, Audrey; daughter, Becky (Doug) Smith of Durand; two sons, RP (Gina) of Arkansaw and Tony (Heidi) of Menomonie; nine grandchildren: Kylee (Lane) Johnson, Aaron (Courtney) Smith; Andy, Lindsey, Bethany, and Emily Pelke; Anthony (Andi), Lex (Fiance, Mackenzie), and Evan Pelke; three great-grandchildren: Sadie, Cole, and Jolie; three sisters: Lucille Mickelson, Mary (Jim) Wayne, and Irene (Jim) Konsela; several nieces, nephews, other relatives, and friends.
He is preceded in death by his parents and sisters: Virginia Gilles, Catherine Zeh, Evelyn Coleman, Elaine Traun, and Joan Pelke in infancy.
Funeral Mass will be held at 11:00 AM Saturday, January 7, 2023, at St. Henry's Catholic Church in Eau Galle with Rev. Jerry Hoeser officiating. Burial will be in the church cemetery.
Visitation will be held from 4:00 PM - 7:00 PM Friday, January 6, at the Rhiel Funeral Home in Durand and one hour prior to services at the church on Saturday.