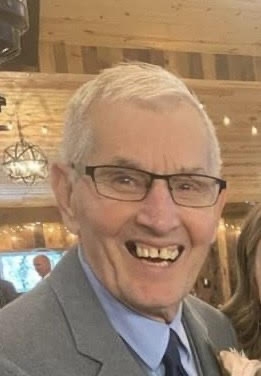 John A Bauer, age 82 of Durand, died Saturday, January 7, 2023 at his home in Durand with his family by his side.
John was born on March 30, 1940 in Caledonia, MN. He was the son of Gerhard and Helen (Reining) Bauer. John grew up in Caledonia and graduated Loretto High School in 1958. After high school, John worked for Bissen Oil Company & Gas in Caledonia. John married Judy Blair on September 10, 1960 in Brownsville, MN. John and Judy later moved with their family to Winona, MN where John worked Federal Sunbeam Bakery. While working for Sunbeam, John made deliveries to the Durand area. Later, they moved to Durand where John went to work for Red & White Grocery Store. John later owned and operated the Sears Catalog Company in Durand, he made deliveries for Durand Transfer and later worked for the City of Durand for over 24 years.
John enjoyed bowling, cards, golf and softball. He liked watching his grandchildren's sports and school activities, and going hunting and fishing. John was also a member of the Knights of Columbus
John is survived by his wife of 62 years, Judy, children, Jeff (Ivy) of Sarona, Jeni (Scott) Bauer and Jay (Jo), both of Durand, 10 grandchildren, Tiffany (Wally), Ted (Sarah), Katie (Dustin), Jamie (Lanny), Josh (Lindsey), Jackie (Cody), Keauna, Jack, Madisyn and Olivia, six great grandchildren, Micah, Max, Maiya, Korra, Victor and Connor, three sisters, LaVina Lange, Rita Svehaag and Mary Mullen, two brothers-in-law, Art Robak, Dave Augedahl, three sisters-in-law, Wanda Bauer, Leota Bauer and Darlene McGinnis. He is preceded in death by his parents, siblings, Vincent (Rosine) Bauer, Sr. Vinciana Bauer, Bernice (Les) Lange, Teresa (Ralph) Heberlein, Shorty Bauer, Gordy Bauer, Millie Robak and Helen Augedahl and brothers-in-law, Ted Lange, Jay Schense and Lee Svehaag.
Memorial Mass will be 11:00AM Thursday, January 12, 2023 at St. Mary's Catholic Church in Durand with Rev. Timothy Reither officiating. Burial will be in the church cemetery at a later date. Visitation will be 4:00PM-7:00PM Wednesday at the Rhiel Funeral Home in Durand and one hour prior to services at the church on Thursday.
Rhiel Funeral Home & Cremation Services, Durand, is serving the family.