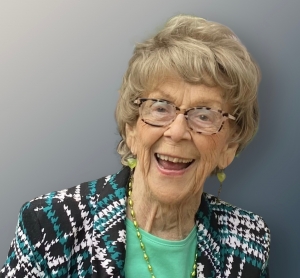 Janice Colleen Saueressig, age 92 of Plum City, Wisconsin was called home on January 7, 2023. Janice was the daughter of Neoma and Ray Radkey, and grew up on the family farm in Beldenville. She attended Morton Corner Grade School and graduated from Ellsworth High School in 1947. On June 11,1949 she married the love of her life Gordon Saueressig. They were blessed with 6 children: Vicki, Kris, Brad, Greg, Dave and Jeff. Janice was also blessed with 16 Grands and 23 Great-Grands!
Janice attended the University of River Falls Normal School to earn her teaching certificate. She taught at Carpenter Grade School and Rock Elm Grade School, which were one room school houses, before leaving to have her first child. Janice's full-time job was helping on the farm and raising her children. She did some substitute teaching and worked a few years at Weiss Realty after getting her real estate license.
Janice was a cheerleader for the UW-RF Falcons while attending college, but more importantly throughout her life she was a cheerleader of others and an entertainer of all! Janice was a poet, a song writer, a singer, a comedian, a dancer, a true artist. Janice lifted the spirits of everyone she encountered. To Janice, Plum City was her "Hollywood!"
Janice was also committed to the ONO-UMC and her Lord and Savior. She served on many committees, the Ladies Aid taking center stage. Janice supplied food and entertainment for the noon dinners through 2021. Janice sang in the church choir, at weddings, anniversaries, birthdays, funerals and wherever she felt she had a captive audience whether it be one or many willing listeners.
Other passions of Janice included a love for her flower garden and yard. She cherished the beauty of all flowers but especially the Iris, a love she inherited from her mother. Janice was a Bridge player and loved the Packers, Twins, Badgers and High School sports.
Janice and Gordon had 64 beautiful years together and they loved to dance, sing and travel. Janice also traveled with her sisters, thus had many wonderful trips during her life. She traveled to Italy, Germany, Norway, Alaska, Hawaii, Jamaica, New York and many other states and National Parks. Janice was loved by many, lived a wonderful life and brought so much joy and laughter to others to the very end.
Funeral Services will be 11:00AM Saturday, January 14, 2023 at Ono United Methodist Church, rural Plum City with Rev. Dave Kim officiating. Burial will be in the Ono Cemetery. Visitation will be from 4:00PM-7:00PM Friday at the Rhiel Funeral Home in Durand and one hour prior to services at the church on Saturday. A luncheon will follow the service at Molly's on Main in Plum City.
Memorials may be made in Janice's name to the Ono United Methodist Memorial Fund.
Rhiel Funeral Home & Cremation Services, Durand, is serving the family.