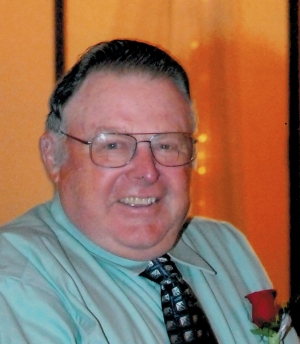 Merlin Dale Place age 92, of Elmwood, died Wednesday at Welcome Home Assisted Living in Elmwood. Merlin was born near Lawton Wisconsin on November 30, 1930. He was the son of Melvin and Signa (Anderson) Place. Merlin spent his early childhood in Spring Valley and following the Flood of 1942, moved with his family to Elmwood. Merlin was an avid reader though not terribly excited about school. When the opportunity presented itself, he left school to join the Navy. Merlin was assigned to both the USS Gyatt and USS K.D. Bailey making several voyages to Europe and the Mediterranean. While home on leave in 1950, a beautiful redhead he'd known since kindergarten caught his eye. And on St. Patrick's Day, 1951, Merlin married the love of his life, Virginia Mae Evans.
Merlin left the Navy in 1955 and in 1957 he and Virginia along with their children, moved back to Elmwood onto the "Little Farm" where he started milking, by hand, his first herd of 15 cows. Merlin and Virginia eventually settled on the old Henry Hanson farm in Spring Lake Township in 1967 where they lived for the next 53 years. In June 2020, Merlin and Virginia moved to Welcome Home Assisted Living in Elmwood where they were residing at the time of his passing.
Family was the most important thing in Merlin's life. He adored his wife of 72 years, was an amazing father to his three children, a devoted grandfather to his grandchildren and great grandchildren and a pillar of strength to his siblings, in-laws and their families. He was a kind, gentle, honest and humble man dedicated to his family, his farm, his church, community and country and his dancing. Merlin held multiple offices as a member of the American Legion in Elmwood, Pierce County, and regionally. He transported veterans to the VA Hospital in Minneapolis for fourteen years, organized untold numbers of meals for the Legion, spearheaded countless pancake suppers at Spring Lake Lutheran Church and danced and danced and danced. Whenever possible, Merlin danced. He loved to polka and waltz with Virginia. The two of them traveled with friends to dances throughout Wisconsin and Minnesota. The couple traveled the US visiting family and friends wherever they could be found. His last trip was in 2018 when he participated in an Honor Flight to Washington DC. Merlin was proud of the fact his son and grandchildren followed in his footsteps by joining the military. Currently serving or having served are Dale, Rebecca, Lee, Sam, and Logan.
Merlin is survived by his life partner, Virginia. Children: Jeannie (Blaze Cunningham) Place, Dale (Kay) Place, and Anthony (Martha Perez) Place. Grandchildren: Marla (Bill) Butler, Rebecca Place, Lee (Kelsey) Place, Samuel Cunningham, step-grandchildren Brandon (Leigh) Cunningham and Amber (John Uptmoor) Cunningham. Great grandchildren: Logan (Sarah Dunbar) Butler, Victoria Butler, Kaden and Kenzie Place, Helena and Annabel Cunningham. He is also survived by his sisters Maxine (Eldon) Huber, Shirley Browning, Shelby Crow and brother Mike Place, sister-in-law Betty Evans, brother-in-law Robert (Marilyn) Manor, numerous nieces and nephews, cousins and countless friends old and young. He was preceded in death by his parents, brothers-in-law Everett Monett, George Browning, Harvey Crow and John Evans, sister-in-law Linda Place, nephews Don Monett, Anthony and Russell Crow and niece Kris McMaster.
Funeral Services will be at 11:00 AM Wednesday, January 18, 2023, at Spring Lake Lutheran Church with Rev. Peter Friberg officiating. Burial will be in the Spring Lake Lutheran Cemetery with military honors provided by Crain-Ottman American Legion Post 207, Elmwood WI.
Visitation will be held from 4:00 to 7:00 PM Tuesday at Welcome Home Assisted Living, in Elmwood and one prior to services at the church on Wednesday.
Memorials are preferred with the family requesting donations be directed to the Spring Lake Lutheran Cemetery, PO Box 386, Spring Valley WI 54767.
The family wishes to thank Mel Schoeder, Paula Weisenbeck, and all the staff at Welcome Home Assisted Living for your loving care and concern for Dad. You are too many to mention but each one of you has a special place in the hearts of the family. Thank you.