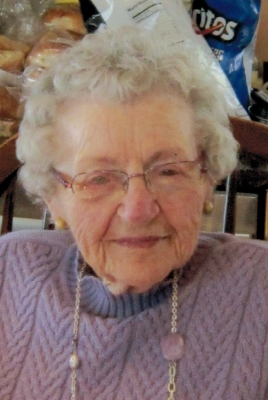 Mardell E. Lewis, age 96, of Elmwood, died Thursday, January 12, 2023, at Welcome Home Assisted Living in Elmwood with her family by her side.
Mardell was born January 26, 1926, in Spring Lake Township, rural Spring Valley. She was the daughter of Martin and Maren (Elgord) Jensen and grew up in that community. Mardell graduated from Spring Valley High School in 1944. Mardell worked as a bookkeeper for an implement business in Spring Valley for a few years. She married Alfred Lewis, Jr. on September 27, 1946, at the Spring Lake Lutheran Church in rural Spring Valley. After marriage they worked in Spring Valley for a short time before moving to Plum City where they farmed for Alfred's uncle, which they later purchased. In 1994 they moved to Elmwood until 2010 when they returned to a new home on the farm. For the last several years, Mardell has resided at Welcome Home Assisted Living in Elmwood.
Mardell always had a positive attitude and always saw the best in people. She enjoyed sewing, baking, driving tractor, being part of the Rock Elm United Methodist Women working at the ice cream socials. She also enjoyed playing cards and doing jig saw puzzles, above all, her family was most important to her and she enjoyed spending time with children and grandchildren.
Mardell is survived by her children, Linda (Dan) Vivoda of Elmwood, Marilyn (Bob) Manor of Hudson, Terry of Plum City and Debra Lewis of Hudson; eight grandchildren, Mike (Linda) Vivoda, Kris (Mark) Bryant, Ryan (Abby) Vivoda, Nate (Krista) Manor, Jordan (Jessica) Manor, Natalie Gavic (Travis), John Gavic (CeCe) and Will Gavic; 14 great grandchildren, several nieces, nephews, other relatives and friends.
She is preceded in death by her parents, her husband, Alfred and one brother & sister-in-law, Lyman (Judy) Jensen; brother-in-law, Loren (Rhene) Lewis.
Funeral services will be at 11:00 AM Saturday January 21, 2023, at the Elmwood United Methodist Church with Rev. Meg Erickson officiating. Burial will be in the Poplar Hill Cemetery, Township of Rock Elm, rural Elmwood.
Visitation will be held one hour prior to the services at the church on Saturday.
The family would like to thank Welcome Home and all the staff for the wonderful care given to Mardell these past several years.