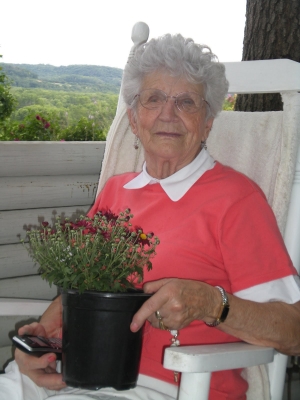 Irene E. Brion, aged 94, died on Thursday January 12,2023 at AdventHealth, Durand, WI with her family by her side.
Irene was born August 2,1928 to Edward and Christina (Hetrick) Traun on Traun Bluff, Buffalo County. After attending school, Irene helped neighbors with their young children and homesteads. At an early age Irene met Louis Brion, who was hired help for her parents. They married June 4th,1945 at Saint Mary's Assumption Church in Durand, WI.
Irene, Louie and their six children farmed on Maxville Prairie until 1959 when they purchased a farm in Cascade Valley. While helping on the farm, Irene started working as a nursing assistant at Saint Benedict's hospital. Irene then accepted a job at the Buffalo County Human Services department.
Louie died in 1994 just shy of their 50th wedding anniversary. Irene later married Ken Bluem at St. Joseph's Catholic Church, Arkansaw, WI. They were married for 20 years. After Ken's death Irene eventually moved to the Home Place in Durand.
Irene was involved with many volunteer activities which included the Maxville Prairie Cub and Brownie Scouts. She was the founder of the Maxville Prairie Girl Scout troop. Irene loved to read, dance, sew and play cards. She loved her visits with her family, friends and her nieces and nephews. Her care for others will not be forgotten.
Irene is survived by her children, Marie (Robert) Wachtler, Charles (Diane), Mary (Jack) Iverson, Diane (Steve) Kraus and David (Mary), daughter-in-law, Antionette Brion, 12 grandchildren, 22 great-grandchildren, one sister-in-law, Bernice "Bunny" Traun, nieces, nephews, other relatives and friends. She was preceded in death by her parents, Edward and Christine Traun, her 7 sisters and 2 brothers, husbands, Louis Brion and Kenneth Bluem, and one son, Donald.
Irene's burial will be on Tuesday, January 17, 2023 at the Cascade Cemetery at 3pm. A mass and reception will be held at a later date to celebrate Irene's life.
Special thanks to AdventHealth-Durand staff for their care during her last few days. Irene has asked that memorials be made to help the poor through a charity of your choice.
Rhiel Funeral Home & Cremation Services, Durand, is serving the family.