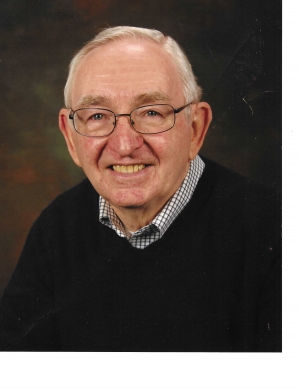 Wayne H. Nohelty, age 87, of Elmwood, passed away on Thursday, January 12, 2023, at Heritage of Elmwood Nursing Home in Elmwood.
He was born August 4, 1935, in Wisconsin Rapids, to Peter and Ruby (Farrell) Nohelty. He attended Sts. Peter and Paul grade school in Wisconsin Rapids. The family moved to Eagle River where he graduated from Eagle River High School in 1953. In 1958 he graduated from the University of Wisconsin, Madison, with a BBA degree. While in Madison he met Patricia (Pat) Weber. They were married July 16, 1960 in Elmwood. They lived in Madison, Dodgeville, WI, Sioux City, IA, and Elmwood, WI. Wayne worked for the Madison Gas and Electric Co., Sun Oil Company and was the CEO of the First State Bank of Elmwood for 19 years.
Wayne was a member of the Elmwood Planning and Zoning Committee, a trustee of the Indianhead Federated Library System (IFLS) and was very active in the Catholic churches he attended. At Sacred Heart Parish, in Elmwood, he was chairman of the parish finance council for 15 years and for many years he ushered and was a Eucharistic Minister. He served on the Elmwood Public Library Board as treasurer and as treasurer and member of the Elmwood Food Pantry.
Woodworking was a hobby he enjoyed very much. He made many treasured things for his children, grandchildren and friends. Traveling, reading and attending his children and grandchildren events, spending time with family and friends were a very important part of his life.
Wayne is survived by his loving wife, Pat; two sons, Thomas (Lori) of Madison, Peter (Jennifer) of Bettendorf, IA; two daughters, Sue (Steve) Galoff of Elmwood, and Ann (John) Oligney of Wisconsin Rapids; nine grandchildren, Matthew (Kelly) Nohelty, Eric( Alyson) Nohelty, Megen (Chad) Hines, Ashley (Kyle) Boyea, Nicole (Jonah) Traaseth, Spencer Nohelty, Christopher Nohelty, Sam Oligney and Jason Oligney; ten great grandchildren. He is also survived by brother-in-law Jerry Weber. He was preceded in death by his parents, one brother James Nohelty and sister-in-law Joyce Weber.
In lieu of flowers, please consider donations to the Elmwood Public Library and the Elmwood Food Pantry.
Funeral services will be held at 11:00 AM Friday January 20, 2023 at Sacred Heart Catholic Church in Elmwood with burial in the church cemetery at a later date.
Visitation will be held from 9:30 AM until the time of the services at the church on Friday.
The funeral services will be Livestreamed on the Rhiel Funeral Home Facebook Page.
The family would like to thank Welcome Home Assisted Living, Heritage of Elmwood and Moments Hospice.