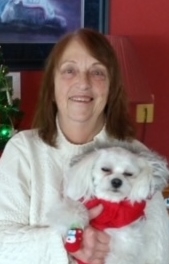 Donna M. Heit, age 76 of Menomonie, died unexpectedly on Tuesday January 24, 2023, at her home in the Township of Lucas.
Donna was born October 7, 1946, in Durand, WI. She was the 11th of 13 children of Henry and Annabel (Komro) Fedie and grew up in the Lima community. Donna graduated from Durand High School in 1964. She married Donald Heit in 1964. They purchased a farm in the Downsville area in 1965. Donna worked the farm alongside her husband and four children, doing milking, field work, gardening, etc. She loved sowing the seeds, nurturing the plants/crops, and reaping the benefits of the harvest. Throughout the years, they improved the property significantly and managed a successful dairy operation. Donna was a steward of the land and a very hard worker. She was meticulous and took great pride in any project that she undertook. Donna also worked at Downsville Grocery, Menomonie Garden Center, Stout Food Service, 3M, KOLPAK, and Westwind Graphics.
Donna enjoyed many hobbies. She was passionate about her gorgeous perennial beds and gardens. She was an avid canner and baker. She made the best dill pickles, poppyseed bread, and Scotcheroos in the county. She loved all animals but especially loved watching and feeding the birds during all seasons. Donna's family was extremely important to her. She enjoyed outings and gatherings with her kids, grandkids, and great grandkids.
Donna is survived by her children, Dawn (Brian) Christianson of Menomonie, Julie (Patrick) Fiege of Menomonie, Jill (John) Erickson of Plum City, Daniel J. Heit of Menomonie; nine grandchildren, Bethany (Kevin) Hasse, Brittany (Josh) Eckert, Cody Christianson, Josh (Amy Bolin) Fiege, Jackie (Nick) Buerger, Nate (Emma Welch) Fiege, Sam Erickson, Janessa and Daisy Heit, seven great grandchildren, Emmett & Lynley Fiege, Dexter & Kendall Eckert, Sawyer Heit, Samantha Hasse & Brooklyn Buerger; six sisters; Verena Sapp, Doris Drier, Rose Marie Richardson, Helen Feeney, LaVina Gifford, Annette (Dan) Schwab; three brothers, Daniel (Sue) Fedie, Henry Fedie Jr., Robert (Audrey) Fedie Sr.; sisters-in-law, Arlene Fedie, Gloria Fedie & Peggy Fedie; many nieces, nephews and other relatives, her special friend Roger Wieland, her dog, Zoey, Charlie the cat, and many other friends.
She is preceded in death by her parents, former husband, Don; three brothers, Anthony, Francis, and Arnold Fedie and several sibling-in-laws.
The family would like to thank the 911 dispatcher, the Menomonie EMT's and the Dunn Co. Sherrif's Dept. for their help.
Memorial services will be held at 2:00 PM Friday February 3, 2023, at the Durand Rod & Gun Club followed by a Celebration of Life from 3:00 to 7:00 PM.