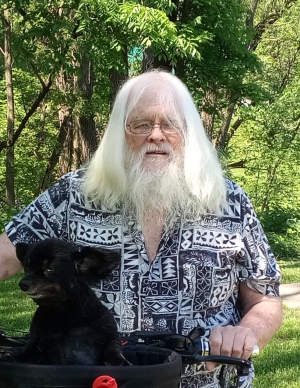 Lester B Cowan, age 74 of Durand, died Thursday, February 9, 2023 at his home in Durand after an extremely aggressive battle with Pancreatic Cancer.
Lester was born on December 10, 1948 in Utah. He was the son of Lester and Lylis Cowan. Lester grew up in Lakewood, CA. While in California, Lester was a butcher and developed a passion for surfing and the surfing lifestyle. He also enjoyed snowboarding, playing guitar, fishing and a cold Coke. Les moved to Wisconsin in 2010 and in 2016 he moved to Durand where he remained the rest of his life.
Les enjoyed taking rides around town with his dog, Tootsie, in the basket of his electric bicycle. Over the years, Les earned the nickname "Santa", which he greatly enjoyed.
Les is survived by his son, Jamie, two grandsons, Andrew and Nathan, forever friend and pea to his pod, Kimberly Lund, newfound best friend and caregiver, Mary (Steve) Schwartz and their son Taft, good friend, Mike Blank, nieces, nephews, other relatives and friends. He is preceded in death by his parents, sister, Janice Cowan and nephew Kurt Bratten.
Les will be dearly missed yet never forgotten. He truly was a "White Knight". Until we meet again Les, may you ride those glorious waves around every sunrise and sunset in every blue waters, Amen.
A Celebration of Life will be held at a later date.
Rhiel Funeral Home & Cremation Services, Durand, is serving the family.