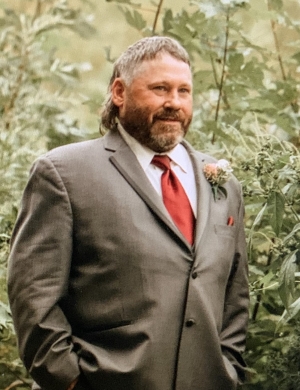 Christopher J. Chilson, age 52 of Arkansaw, died Monday, March 27, 2023 at Mayo Clinic Health Systems in Rochester, MN.
Chris was born on September 10, 1970 in Plum City. He was the son of Richard and Norma (Black) Chilson. Chris grew up in Plum City and graduated from Plum City High School in 1989. In 1995, Chris married Lori Dusek on March 25 at St. Joseph Catholic Church in Arkansaw. After marriage, Chris took a job with the Country Side COOP where he worked until 2016. Most recently Chris worked at Anderson Windows in Menomonie and the Heritage of Elmwood Care Center in Elmwood.
Chris enjoyed classic cars, cooking, gardening, canning and crafting. Most of all Chris loved spending time with family and friends.
Chris is survived by his wife, Lori, three children, Danielle (Travis) Brantner of Mondovi, Jacquelyn (fiancé Brock) Chilson of Amery and Chris Jr "CJ" at home in Arkansaw, two grandsons, Caden and Grayson, mother, Norma Chilson of Plum City, siblings, Curt (Shana) of Arkansaw, Kim (Mark) Unser of Eau Galle and Kelly (Scott) of Goodhue, MN, aunts, uncles, cousins, other relatives and friends. He is preceded in death by his father, Richard.
Memorial Mass will be 11:00AM Wednesday, April 5, 2023 at St. Henry Catholic Church in Eau Galle with Rev. Jerry Hoeser officiating. Visitation will be from 4:00PM-7:00PM Tuesday at the Rhiel Funeral Home in Durand and one hour prior to services at the church on Wednesday.
Rhiel Funeral Home & Cremation Services, Durand, is serving the family.