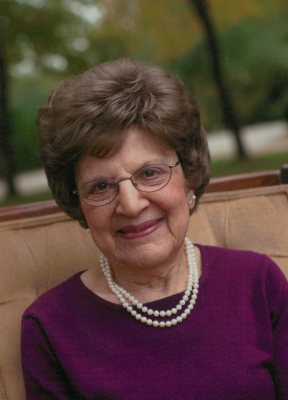 Thelma Louise Weisenbeck, age 94 of Eau Claire WI, formerly of Durand WI, took God's hand and passed away peacefully March 24, 2023, with her family by her side.
She was born April 12, 1928 in the town of Eau Galle, WI to Edwin and Louisa Gasteyer, being the second of five daughters.
Thelma (Gasteyer) married Darrell Weisenbeck on August 30, 1949 at St. Mary's Catholic Church in Durand. They were married 63 years and farmed in the Durand community. For the last six years Thelma resided at Oakwood Hills Independent Senior Living in Eau Claire where she developed some very dear friendships.
Thelma was blessed with many talents. She was an accomplished seamstress who frequently purchased an entire bolt of fabric to make matching dresses for her 5 daughters. Thelma also loved to crochet, tat, embroider, quilt, garden and bake (she made the best poppy roll!). She was an active member of the choir at St. Mary's Church for a number of years. Many knew her as a great listener and wonderful friend. Thelma was a modest woman whose daily prayers and rosary were a priority in her life.
Thelma's legacy will be carried on by her six children, Brenda of Eau Claire, Barbara (Mike) Biesterveld of Durand, Bonnie (Mike) Brunner of Hudson, Dan (Jane) of Durand, Donna (Mark) Scheevel of Harmony, MN, and Denise (Ted) Janzow of Elgin, MN.
She is further survived by 14 grandchildren, Troy Biesterveld, Jill (Matt) Hoyt, Ben (Lara) Biesterveld, Allisa Brunner, Adam (Sarah) Brunner, Lisa (Chad) Hanson, Sara (Patrick) Cotter, Ryan (Megan) Weisenbeck, Drew Scheevel, Derek (Emily) Scheevel, Leah Scheevel, Lauren (Nathan) Riess, Steven (Chaslin) Janzow, 29 great-grandchildren and 1 great-great-granddaughter.
Also surviving Thelma are 2 sisters, Cathy (Joe) Schaeve and Marge (Jim) Schiefelbein.
She was preceded in death by her husband Darrell, her parents, her 2 sisters Carol Hartung and Edie Weisenbeck, grandson Daniel Mark Scheevel, and great-grandson Jack Kruse.
Mass of Christian Burial will be held on 12:00PM Noon Thursday, March 30, 2023 at St. Mary's Assumption Catholic Church, Durand, WI. The Mass will be livestreamed on the Rhiel Funeral Home's Facebook page. Family and friends are invited for a visitation from 10:00AM until the time of the Mass at church. The burial will follow the service in the parish cemetery.
The family would like to express special thanks for the wonderful care provided by St. Croix Hospice, especially by Meg and Nancy during Thelma's final days. The family would also like to thank Julie's Team who assisted Thelma with care for the past few months at Oakwood Hills.
Rhiel Funeral Home and Cremation Services, Durand, is serving the family.