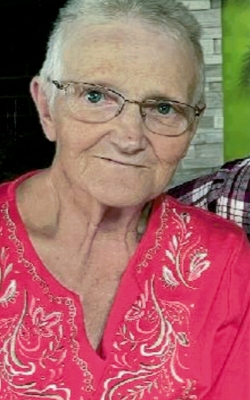 Patricia E. Anderson, age 78, of Plum City, a beloved sister, mother, grandmother, great grandmother and devoted Christian passed away Thursday April 13, 2023, at Mayo Clinic-Methodist Hospital in Rochester, MN, surrounded by her family, after battling Leukemia.
Pat was born December 7, 1944, in her grandparents' home in Ellsworth, but grew up mostly in the Spring Valley area. After graduating from Spring Valley High School, Pat received her Certification as a CNA (Certified Nursing Assistant). Pat met and fell in love with Glen Anderson and were married on September 23, 1967, in Ellsworth and together they had five children. She worked at several different nursing home facilities around the area. Pat was driven by a passion to help others and believed you treat others as you would want to be treated.
Pat had several passions in life, cooking for family and friends, watching her birds, planting flowers, taking care of others, her family, grandkids and most of all her love for Christ.
Pat is survived by her husband Glen, of 55 years, sons, Gerald (Nicole), Frank (Colista) and Aaron Anderson, a daughter, Amy Caturia (Gary Bee); 10 grandchildren, seven great grandchildren, sisters, Dorothy Bunce, Rosella (Dick) Geving, Wendy Chapman; half-sister, Bunny (Glen) Eckhoff; brother, Mac (Deb) Bunce; sisters-in-law, Betty Grab, Carla (Jerry) Bridges, Judy Heley; including the friendships of Judy & Bill Brookshaw, Cindy & John Oelke, Marion & Ken Peterson, Cindy & Barry Hanson.
She is preceded in death by her parents, a daughter, Gwen Anderson, brothers Danny, Donny, half-brother, Bud, brothers-in-law, Ralph Grab, Frank Anderson, and John Anderson.
Memorial services will be held at 11:00 AM Saturday April 22, 2023, at Lund Mission Covenant Church in Stockholm with Rev. Darren Catron officiating.
Visitation will be held one hour prior to services at the church on Saturday.