Calvin A. "Cal" Longsdorf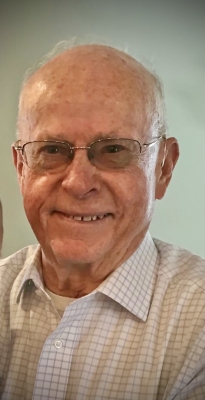 Calvin A. (Cal) Longsdorf was born to Ardee and Lila (Myers) Longsdorf on June 6, 1937 at Plum City Hospital. He lived in the Porcupine Valley for 18 years, attending the country one-room schoolhouse for eight years and graduating from Arkansaw High School in 1955. After graduation, he started employment with 3M company's home office in St. Paul, MN.
On June 30th, 1956, Cal married his high school sweetheart and love of his life, Patricia (Patty) Anibas, and they enjoyed almost 67 years together. They added four children to this marriage – Randy, Ron, Mike and Lori. After marriage, Cal worked for Curtis 1000 in St. Paul, Durand Cooperative and Wieser's Concrete Products in Maiden Rock, WI. At Wieser's, Cal and Patty felt fortunate to be able to travel to such places as Portugal, Madeira and Puerto Rico to attend business conferences.
In 1978, they started their own company, Precise Concrete Walls, Inc., which he proudly ran until 2004 when he turned it over to his son. He continued to work in the business with his son for 10 more years, and his response to the question of hobbies was always "working."
His love of family led to purchasing a cabin on Horseshoe Lake near the town of Turtle Lake, WI, where the family would get together for weekends and holidays for 28 years. This same love of family led Cal and Patty to take the whole family on vacation to Mexico, twice.
Cal had a strong faith, and he set examples for all that knew him. He had a big and kind heart, and he and Patty were extremely generous toward those less fortunate, including many, many years of support for the Food For The Poor, Catholic Relief Services, and MaryKnoll organizations, among many others.
Cal is survived by his wife of 67 years, Patricia Longsdorf, children Randy (Cheri) Longsdorf of Woodbury, MN, Ron (Tracy) Longsdorf of Plum City, WI, Lori Larson Heller of Minneapolis, MN; daughter-in-law Tina (Mike) Longsdorf of Eau Claire, WI; 9 grandchildren David (Jacquie) Longsdorf, Ryan (Liz) Longsdorf, Scott (Tazaria) Larson, Calli (fiance' Josh Brown) Longsdorf, Chelsey Larson, Cody (Kate) Longsdorf, Ashley (Jake) Longsdorf, Christopher Longsdorf and Luke Longsdorf; 7 great grandchildren Isla and Calvin Larson, Leo and Levi Longsdorf, Nola and Calvin Longsdorf, and Kiera Longsdorf.
Cal was preceded in death by his parents Ardee and Lila Longsdorf, mother and father-in-law Tony and Alice Anibas, one son Michael Longsdorf of Eau Claire, and one son-in-law Jim Heller, as well as several relatives and many friends.
Funeral Mass will be 11:00AM Friday, May 12, 2023 at St. John the Baptist Catholic Church in Plum City with Rev. JuJu Villapaz and Rev. James Kurzynski officiating. Burial will be in the church cemetery with a luncheon to follow at Molly's. Visitation will from 4:00PM-7:00PM Thursday at the Rhiel Funeral Home in Durand.
Rhiel Funeral Home & Cremation Services, Durand, is serving the family.