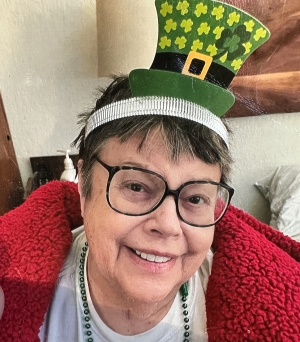 Judith Louise Johnson passed away May 6, 2023, at Welcome Home assisted living facility in Elmwood, Wisconsin. She was 79. Judy moved back to her hometown in 2018 after almost half a century in Orange County, California. She helped her parents produce the Elmwood Argus and Spring Valley Sun until graduating from Elmwood High School and going on to earn her Bachelor of Arts from UW-Eau Claire in 1966.
Judy spent 10 years in Washington, D.C., including five in President Richard Nixon's press office, before heading west. There, Judy continued her work in public service, including positions on the California Water Quality Control Board, San Diego Region; the Interagency Water Quality Panel for San Diego Bay; Chair of the San Clemente Parks and Recreation Commission; Orange County's Comprehensive Economic Development Strategy Committee; conducting research for President Nixon's memoir; and on the Republican Central Committee of Orange County - among others. She established her own successful public relations firm - Sterling Communications - in 1993, deepening connections between her nationwide clients and their customers, as well as building many new relationships.
Judy always knew exactly what she wanted, and she went out and got it. And when she was ready to slow down and simplify her busy life, she knew she wanted to return to her roots and enjoy some time with family and a view of the green hills across the Eau Galle River, the country she enjoyed from horseback as often as possible in her youth.
Judy is survived by her sister-in-law, Kathleen McCardle (formerly Johnson) of Elmwood, and her nephew, Kristopher Johnson of St. Paul, Minnesota, as well as numerous friends all over the country, all of whom will miss her kindness, humor, intelligence, and adventurous spirit. She is preceded in death by her father, Forrest; her brother, Forrest Jr. (Jerry); her Aunt Mary; her Aunt Ruth; and her mother, Mildred (Mac), who will be very glad to see her.
Many thanks to all those at Welcome Home and their warmth and genuine caring for Judy over the past five years.
No formal services are being planned.