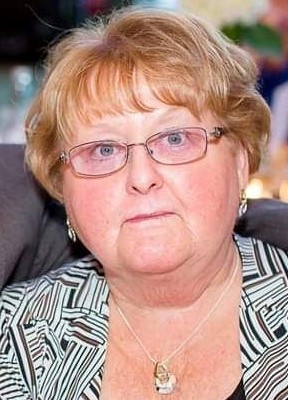 Joyce was born on August 31st, 1945, to Earl and Ruth Kruempel of Wabasha, MN. She grew up in Wabasha with her four brothers and two sisters.
She met Pat at a dance at the LBJ Pavilion in Durand. The rest, as they say, is history. Joyce married her soulmate Pat on April 3rd, 1965, at St. Felix Catholic Church in Wabasha. After marriage, they moved to Winona, MN, where she worked at a department store. They lived in Fountain City while Pat was employed at a construction company. Later, they came full-circle back to Durand, where Joyce worked at Western Wisconsin Insurance for several years.
Joyce and Pat had two beautiful daughters, Sherry and Rebecca (Becky).
In the early 1990's, Joyce decided to start a daycare business in her home. Her daycare kids became like family. After many fulfilling years as a daycare provider, she retired.
Around that time, Joyce and Pat were also blessed with five granddaughters. Joyce's grandkids were her treasure. Joyce's passion for reading extended to her grandchildren, always encouraging them to take books home with them after visiting. She would spend countless hours picking out the perfect gifts for each grandchild. Careful to not show favoritism, Joyce would always take time to make sure her grandchildren's' gifts were equal.
Joyce loved to spend time on the Chippewa River fishing, agate hunting, or simply reading a book. She always had a funny quip at the ready, and there was never a shortage of good humor around her. She also loved to bake and cook, especially when her grandkids came to visit. On any given day, Joyce might have been found enjoying anything Disney, Harry Potter, George Strait, Randy Travis, or the Packers. Her passion for birds, especially eagles, orioles, and hummingbirds, was evident to all who knew her - heaven forbid if a squirrel invaded her feeders!
Throughout both the highs and the lows of their 58-year marriage, Joyce loved Pat with all her heart and soul. She was the anchor and the glue that held the ship together during rough waters.
Joyce is survived by her husband Pat, her loving daughters Sherry (husband Dave) and Becky (husband Mike), and granddaughters, Nikki, Emma, Jenni, Kelli, and Sara; her brothers Eugene (Gene) and Ted (wife Lois), sisters Sharon (husband Roger) and Jeanette (husband Harvey), and half-brother David (wife Chris).
Memorial Services will be 11:00AM Saturday, June 17, 2023 at the Rhiel Funeral Home in Durand with Rev. Timothy Welles officiating. Burial will be in Holy Rosary Catholic Cemetery-Lima in Durand. Visitation will be from 10:00AM until the time of services at the funeral home on Saturday, June 17, 2023.
Rhiel Funeral Home & Cremation Services, Durand, is serving the family.