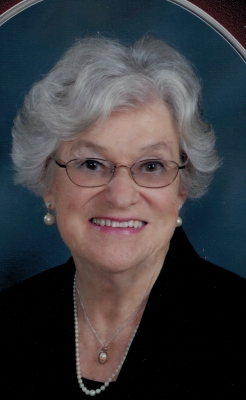 Mary "Bunny" Kinney, formerly of Menomonie, died peacefully on Friday, May 12, 2023 at The Good Samaritan in Stillwater, MN, just two days before her 99th birthday.
Married for 62 years to George who passed in 2006, she was a beloved wife, mother, grandmother and great grandmother. She is survived by five children: George Jr (Julie) of Afton, MN, Paula (Doug) of Stillwater, MN, Mark (Julie) of Menomonie, Greg (Svetlana) of Ogden UT, David (Tristan) Maui, HI; 13 grandchildren and 22 great grandchildren.
Bunny, as everyone called her from birth, was born in Boston, MA on May 14, 1924, the daughter of Mary and William Cunningham. After high school she trained as a masseuse at the Duval School of Swedish and Medical massage. She met her husband George in 1943 at a naval officer's ball and it was love at first sight. They were engaged in 2 months and married on June 7, 1944. After the war they moved to Ashland, WI, a city on Lake Superior which she described as "that God-forsaken place where men would remove their long johns on the 4th of July and put them back on, on the 5th!" She was thrilled when they moved 150 miles south to Menomonie in 1956.
Bunny was the quintessential dedicated wife and mother, raising five active children while her husband worked & often traveled to build a successful dairy cooler business. She sewed and knitted clothes for her children, put delicious meals on the table every day and baked bread and sweet rolls every Friday. Bunny was a faithful Catholic who sang in the church choir. She was an election judge for decades; enjoyed creating a wide variety of crafts; was an avid bridge player and golfer; and kept a garden full of vegetables and flowers. She and George traveled often, and were accomplished ballroom dancers. Always engaging and helping out her neighbors and friends, Bunny was also active in her social sorority and Red hats into her late 80s. And, well past 98 she found it difficult to step away from an ever-present jigsaw puzzle. She loved playing the slots at nearby casinos, once asking her daughter, "what else is an old person supposed to do!"
Funeral services will be held at 11:00 AM Friday June 9, 2023, at St. Joseph Catholic Church in Menomonie with Rev. John Mano officiating, followed by a lunch in the church hall. Burial will take place at the Amery Cemetery in Amery at 3:00 PM.
Visitation will be held one hour prior to the services at the church on Friday.