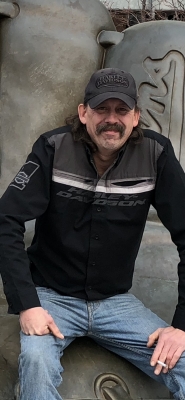 Joseph A Docter, age 55 passed peacefully in his sleep after a short but courageous battle with cancer on Sunday Morning, May 14, 2023 with his loving wife Angie by his side. Joe was born in Eau Claire, WI to Eva Jean (Thibado) and Charles Docter on May 23, 1967.
Joe attended Durand school and graduated from Durand High School in 1985. Joe worked a variety of jobs and spent over 15 years at Tri-Star Motors with his last job at Eau Galle Cheese.
In 1992 Joe married Cindy Vogel, they later divorced. In 2000 Joe met June Hostetler and a great relationship ensued and they were married in 2001. Joe was a loving husband to June and took care of her, she passed away unexpectedly in 2013
In 2017 Joe met Angie Rehder and a love and relationship quickly blossomed and on September 22, 2018 Joe and Angie were married. From there where you found one you found the other, they were inseparable. Joe was dedicated to Angie and would do anything for her. Joe loved his Harley and he and Angie loved to ride. Joe was a patriot and very supportive of servicemembers and Veterans as well and participated in numbers rides for Veterans and other just causes. Joe liked to snowmobile and in years back took trips to Yellowstone National Park. Joe also enjoyed boating and spending time at his Uncle Bruce's cabin in Solon Spring with friends and family. Where ever you found Joe, it was a good time, he had the personality that would light up a room. No matter how you knew Joe he considered you family and he would do anything he could for his family. His sense of humor and sense of family will be truly missed by all.
Joe is survived by his loving wife Angie, step children Joelle Schwab, Amber and Austin Bartz, Uncle Wayne (Susan) Thibado, Uncle David (Cindy) Thibado, Uncle Ken Thibado Sr (Patty Wilson) Aunt Lynda Thibado (Don Briggs) Uncle Bruce (Nancy) Smith, Cousins Corrine (Kevin) Clark, Kate (Sandy) VerSluis Paul (Wendy) Thibado, Michelle Wenzel, Jason (Ellen) Smith, Nate (April) Smith, Chuck (Ruth Mitchell), Smith, Amy (Jake) Tschirgi, Ken Thibado Jr., Kevin Thibado, Chris (Katelin) Thibado, Karen (Frank Bammert) Rick Ford, Mary Ayers, Randy (Lyn) O'Connell, Brian Cuellar, nephew Cody Larson, Niece Hannah Larson, Siblings, Anne Chevez, Bill Docter, Carrie Docter, Peter Docter, Shelly Docter, Arthur Docter, In-Laws Wayne (Janice) Rehder, Bill Rehder and many other relatives and friends. Joe was preceded in Death by his Grandparents, Mother Eva Jean (Thibado), Father Charles Docter, former wife June Docter, brother Sevey Docter and Dorothy Rehder.
A Celebration of Life will be 2:00PM at Molly's on Main in Plum City on July 29th, 2023, all are welcome.
Rhiel Funeral Home & Cremation Services, Durand, is serving the family.