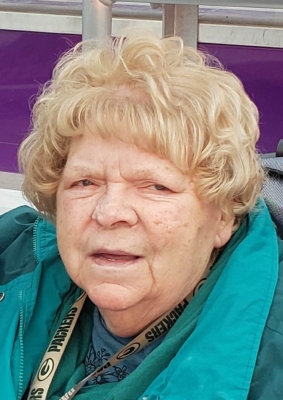 Mary F. Biesterveld, age 74, of Elk Mound, died Wednesday May 24, 2023, at her home in the Township of Red Cedar.
Mary was born November 2, 1948, in Durand. She was the daughter of Lawrence and Veronica (Forster) Brenner and grew up on the family farm in Eau Galle. Mary graduated from Sacred Heart High School-Lima. After high school, Mary attended St. Joseph School of Nursing in Marshfield and began her nursing career there. Mary married Gary Biesterveld September 25, 1971, at St. Henry's Catholic Church in Eau Galle. They made their home in Rock Falls where they farmed, raised their family and later divorced. Mary worked as a Registered Nurse at Chippewa Valley Hospital, Oakview Care Center and Sacred Heart Hospital, retiring in 2013.
Mary loved music. She played the trumpet, accordion, piano and organ. Mary directed many 4-H musicals, accompanied solo and ensemble participants, and performed for countless weddings, funerals, and other special occasions. In her more adventurous years, she also enjoyed bowling, card parties and snowmobiling. Later, she became an avid Packer fan and enjoyed volunteering and lunch dates. As a grandmother, Mary took immense pride in the accomplishments and milestones of her grandsons. She enjoyed watching ball games, cattle shows, and any other occasion that brought the family together.
Mary is survived by her children, Laura (Gabe Harper) Biesterveld of Milwaukee, Adam (Paula) of Rock Falls; Emily (Barry) Cook of Menomonie; five grandsons, Eli, Evan, Garrett, Grant and Kaleb; two brothers, Steve Brenner of Arkansaw and Doug Brenner of Rock Falls; a sister-in-law, Kathy Brenner of Eden Prairie, MN, nieces, nephews, other relatives and friends.
She is preceded in death by her parents, her brother, Lawrence, sister-in-law, Linda Brenner.
Memorial services will be at 11:00 AM Wednesday May 31, 2023, St. Joseph's Catholic Church in Rock Falls. Burial will be at St. Henry's Cemetery in Eau Galle.
Visitation will be held from 5:00 to 7:00 PM Tuesday at Rhiel Home in Durand and one hour prior to services at the church on Wednesday.
Condolences may be made online at www.rhielfuneralhome.com
Rhiel Funeral Home & Cremation Services of Durand is serving the family.