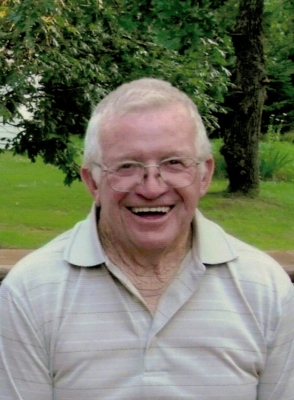 John William Winter, age 89 of Mondovi died Tuesday May 23, 2023 at Our House in Menomonie, WI.
John was born March 11, 1934 in Albany Township, WI. He was the son of Elmer "Chick" and Elaine (O'Connor) Winter. He grew up in rural Mondovi. He joined the Navy 5/8/52 and served during the Korean War aboard the Clarence K Bronson until 4/27/56. He returned to Mondovi WI and married Mary Jean Kitchner in Elmwood, WI on November 24, 1956. They moved to Tucson, AZ in 1958, where they lived for 10 years. They moved back to Wisconsin with their 5 children in 1968 and have resided in the Mondovi area ever since.
John was a strong, private and hard working man. He was a full time farmer and also always held a full time job off the farm. He worked for many years at the Mondovi CoOp Feed Mill until he retired. He loved his children and really loved his grandchildren. They were his world.
John is survived by his sons; John (Jane), Jodie (Amy), daughter Kellee (Kent) Carothers, daughter-in-law Lisa and son-in-law Rick Werlien, 13 grandchildren; John (Avery), Jacob (Marissa), Elmer (Jill), Tiffany (Kevin), Justin (Amy), Amber (Andrew), Megan (Luke), Ryan (Katie), Chad (Heather), Kari (Ken), Danica (Jake), Chelsi (Jonathan), Alyssa (Jerod), 20 great grandchildren, Olivia, Levi, Hayes, Hunter, Autumn, Berkley, Finn, Jack, Calvin, Collins, Mya, Grace, Grant, Cole, Reid, Lainey, Carter, Connor, Landon, Delilah, Sully, Andrea, Walter, Cadyn, Cloey, Jackson, Haylee, and 1 great-great grandson, Jesse. He was preceded in death by his parents, Elmer & Elaine, his wife, Mary, his son Elmer, his daughter Gina Werlein, his granddaughter Jenna, brothers and sisters; Dean-Junior (Mary Lou), Jane Lunderville, Helen (Marshall) Lunderville, Jess (Shirley), Margaret (Miller) Johnson and Mary Belle (James) Lafaut.
Thank You to Our House and the St Croix Hospice Team for the Wonderful Care they gave to John this last month.
John will be greatly missed by his family. He was a wonderful Husband, Father, Grandfather, Great Grandfather and Brother.
Memorial Services will be 11:00AM Friday, June 2, 2023 at St. Joseph Catholic Church in Rock Falls with Rev. Timothy Welles officiating. Burial will be in the church cemetery. Visitation will be from 10:00AM until time of services at the church on Friday.
Rhiel Funeral Home & Cremation Services, Durand, is serving the family.