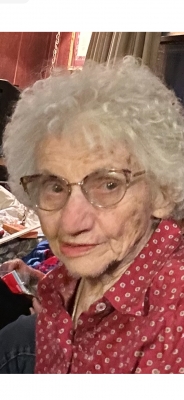 Rita M. Schumacher, age 88, of Colfax, died Tuesday July 25, 2023, at her home in the Township of Tainter, surrounded by family members.
Rita was born December 25, 1934, on the home farm in the Township of Tainter. She was the daughter of Robert and Martha (Schollmeier) Dalle and grew up in Tainter Township. Rita graduated from Menomonie High School in 1952. Rita attended Dunn Co. Normal and then taught rural school on top of "Miller Hill", for two years. Rita married Frank C. Schumacher June 4, 1957, at St. Joseph's Catholic Church in Menomonie. After marriage they farmed on the Schumacher family farm and raised their family.
Rita enjoyed bicycle riding, even well into her eighties, she also biked to her Wine & Cheese ladies group "get-together's". She enjoyed working in her garden and spending time with her children, grandchildren and great grandchildren. Rita welcomed many of the neighborhood kids to her home, and to some was considered a "second mom". Rita was also an active member of St. Joseph Catholic Church, and her faith was very important to her.
Rita is survived by her children, David, Mike, Jean, Kathy, Charlie, Mary, Becky (Phil Hudson), Tom (Amy), many grandchildren and great grandchildren; a daughter-in-law, Mary Lee; five nieces and one nephew and other relatives and friends.
She is preceded in death by her parents, husband Frank in 2005, two sons, Robert in infancy and John; a son-in-law, Tony Ferber and two sisters, Mary and Theresa.
Funeral services will be 11:00AM on Tuesday August 1, 2023, at St. Joseph Catholic Church in Menomonie with Rev. John Mano officiating. Burial will be in the church cemetery.
Visitation will be held from 5:00 to 7:00 PM Monday at the Rhiel Funeral Home in Menomonie and one hour prior to services at the church on Monday.