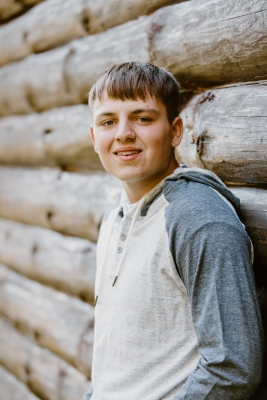 In Loving Memory of Ethan:
On the somber day of August 4, 2023, our son Ethan R. Whitwam, was taken from us far too soon as the result of an automobile accident. Ethan, aged 18, was a force of boundless energy, hard work & determination, and had a love for all things that define the fabric of small-town life.
Born and raised in Arkansaw, WI, a close-knit community, that lifts you up in times of immeasurable grief. Ethan grew up skipping rocks, making forts, fishing the day away, and bow-hunting the bluffs of the family farm in Buffalo County.
From early on, his competitive spirit took hold, a disciple of the gridiron, and slugger on the baseball diamond. An undeniable force on the field, his infectious banter and warm heart made him a cherished teammate and friend.
He is survived by his parents, Chad and Jennifer, who are the pillars of strength, the guiding lights, and the unwavering cheerleaders who nurtured his passions and dreams. The linchpin in Ethan's life, was his deep-rooted love for his twin brother, Eli, his older brother, Isaiah, and sister-in-law Hannah. The three amigos (+1), inseparable in laughter and adventure, remind us all of the immeasurable value of kinship.
He is also survived by his grandparents, James & Monica Whitwam, Terry & Sharon Weisenbeck, great-grandparents Lois & Ron Charen and Arnold Weisenbeck, his aunts and uncles, Jamie Whitwam & Josh O'Dill, Nicole & Paul Callahan, Rachel & Curt Patnode, cousins Autumn, Kelsey, Kaleb, Maddex, Romen, Ian and Kathryn and special friend Skout Hayden. He is preceded in death by his paternal great-grandmother Virgil Ronning, paternal great-grandfather, Roy Milliren, maternal great-grandmother, Edith Weisenbeck and maternal great-grandparents, Richard and Marcella Brunner.
While our hearts are heavy, let us honor Ethan's memory to all who were lucky enough to know him. May he be reunited with his friend Gabe, and the heavens be filled with endless football and baseball games, snowmobile trails, hunting days, and the soothing sounds of a river teeming with fish. Until we meet again, dear Ethan, may your spirit forever grace us with love and banter.
Funeral Mass will be 11:00AM Wednesday, August 9, 2023 at St. Mary's Catholic Church in Durand with Rev. Emmanuel Asamoah-Bekoe officiating. Burial will be in the church cemetery. Visitation will be from 4:00-7:00PM Tuesday at the Rhiel Funeral Home in Durand and one hour prior to services at the church on Wednesday.
Rhiel Funeral Home & Cremation Services, Durand, is serving the family.