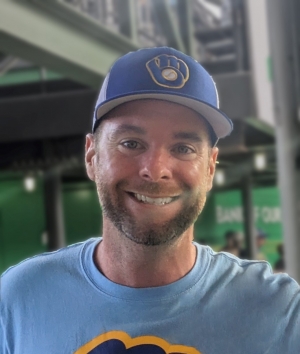 Lucas P. Varsho, 34, resident of Fremont, Indiana, formerly of Menomonie, WI, died prematurely and unexpectedly on August 24, 2023, at Cameron Memorial Community Hospital in Angola, Indiana.
Lucas was born on February 2, 1989 in Menomonie, WI to Paul and Nancy Varsho. Luke graduated from Menomonie High School in 2007 and then completed his bachelor's degree in Marketing at the University of Minnesota Duluth in 2012. Luke found his passion working outdoors with his hands to create and build projects that provided value to people's lives. He found a second home on the drilling rig, working as a derrickhand for the last decade of his life to provide critical fuel to people's homes. From the top of the rig, Luke looked down on the beauty of the world while guiding the work and ensuring the safety of the crew. When working nights, Luke would tell us he could see every star in the night sky from the top of the rig. He was a loved team member and had a passion for taking care of others, often making "last day lasagna" to send the rig crew home with a full stomach at the end of each work hitch.
When he wasn't working on the rig, Luke was out exploring and enjoying nature. If you ever couldn't find Luke, you just had to pick up the nearest binoculars, look past the friendly neighborhood heron, and search for him fishing on a glass-like lake. He was an avid camper and hiker, and enjoyed hunting and fishing. Luke was drawn to the water and the woods, finding his peace and purpose in nature.
A skilled craftsman, Luke enjoyed woodworking and building one-of-a-kind furniture. Each custom furniture piece was constructed with love and attention in every detail and design component. His woodworking pieces will be cherished by his family and friends, serving as a lasting reminder of his unending commitment to the people he loved. Luke's woodworking even extended to the cats he cherished in his life and included unique cat trees constructed from driftwood he found while hiking.
Luke was blessed with a giant heart that loved easily and deeply. Anyone that was fortunate enough to cross paths with Luke was immediately enveloped in his love and humor and they became a dedicated part of his life. For his five nieces and his one nephew, "Uncle Lukie" was the perennial class clown who consistently made them smile, laugh, and giggle. He was humble enough to still play like a kid with his nieces and nephew, filling every room with happiness and joy. Luke will be sorely missed by his beloved parents, Paul and Nancy, and his three siblings, Jesse, Kelly, and Maggi, and their respective families.
We welcome you to join us as we celebrate Luke and his life. We will forever remember his unwavering loyalty, his deep compassion, and his zest for life. A celebration of life will be held on Thursday, August 31, 2023 from 4:00 - 6:00 p.m. at Rhiel Funeral Home, located at 2317 Schneider Ave., Menomonie, WI 54751.
In lieu of flowers, the family would like to honor Luke's dedication to caring for others by accepting donations in his name to The Rosecrance Foundation (https://rosecrance.org/foundation/give).