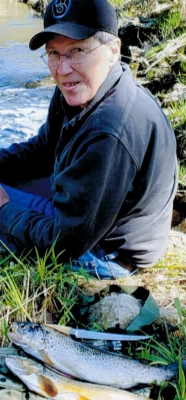 Patrick J. McKernon, age 68 of River Falls, died Saturday, September 2, 2023, at his home in River Falls.
Pat was born along with his brother, on August 25, 1955, in Wausau, WI. He was the son of Arnold and Lucille (Zeug) McKernon and grew up in Elmwood. Pat graduated from Elmwood High School in 1973. Pat attended and graduated from the University of Wisconsin-River Falls. Pat worked as an IT Specialist for 3M in St. Paul for 35, years, retiring in 2016.
Pat enjoyed golfing, deer hunting (not necessarily shooting), attending sporting events and going to Wisconsin Dells with family. He loved fishing brown trout in the Eau Galle River on opening day and also going on a houseboat in Canada annually with 7 friends, (and slaying walleye). One of his fishing buddies said his favorite time with Pat was sitting on the roof of the houseboat watching the Northern Lights. Pat was a loving, kind, fun and generous brother, uncle, great uncle, and friend to many. Pat loved spending time with family and friends.
Pat is survived by a sister, Jan Venegas of Cypress, CA, a twin brother, Michael (Ann) McKernon of Owatonna, MN; nieces and nephews, David Allyan, Meghan Newkirk, Melissa (Duane James) McKernon, Sam (Jill) McKernon, Katie (Chris) Powless; several great nieces and nephews.
He is preceded in death by his parents and a sister, Mary Brandt.
Celebration of Life will be held from 4:00 to 7:00 PM Friday September 15, 2023, at the Rhiel Funeral Home in Elmwood.