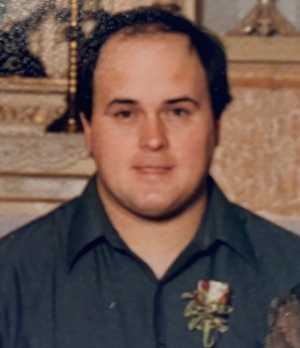 Robert Krings, age 54 of Plum City, passed away unexpectedly on September 23, 2023 near Woodville, WI.
Bob was born on August 28, 1969, in Menomonie, WI to James and Patricia (Hutchins) Krings. He grew up and lived his entire life on the family dairy farm near Exile, WI. Shortly after graduating from Elmwood High School in 1988, Bob began working at Meyer Utility Structure in Hager City, WI and proceeded to work at Meyer for nearly 35 years until his passing. Bob was a hard worker, took pride in what he did and was incredibly skilled as a CNC operator.
Bob was a huge racing fan and loved traveling to dirt track courses across the state. He routinely returned with oversized t-shirts of his favorite drivers to share with his nieces and nephews. Growing up, Bob was a wizard at Rubik's Cube and Pac-Man and ran many racks at the pool table. Bob was a gentle and kind man that would drop everything to help a friend. He was beloved Uncle Bobby to his many nieces and nephews.
Bob is survived by his father James and wife Berneice of Elmwood, WI; six siblings: Mike (Maureen) of Prescott, WI, Kathy Maves (Mike) of Wausau, WI, Mark Krings of New Brighton, MN Shari Schwartz (Pete) of Knapp, WI, Sue Anderson (Rick) of Elmwood, WI and Bruce Krings (Tammy) of Savage, MN; fifteen nieces and nephews: Brandon Kesler, Ben Krings (Saira), Anna Ash (Ethan), Jordan Maves, Angelia Johnson (Mitch), Alyssa Krings, Alan Anderson (Chynna), Patrick Maves (Toni), Dustin Krings (Anita), Carly Maves, Mariah Krings, Jessica Schwartz, Emily Schwartz, Ellie Krings and Caroline Krings; five great nieces and nephews: Addalyne Ash, Reese Ash, Flynn Ash, Charlotte Anderson and Emmett Johnson.
He is preceded in death by his Mother Patricia, Uncle Chuck Hutchins and Aunt Sharon Jusela.
Prayer Service will be 7:00PM Thursday, September 28, 2023 at the Rhiel Funeral Home in Durand. Burial will be 10:30AM on Friday in St. John the Baptist Catholic Cemetery in Plum City. Visitation will be held from 4:00PM-7:00PM Thursday at the Rhiel Funeral Home in Durand.
Rhiel Funeral Home & Cremation Services, Durand, is serving the family.