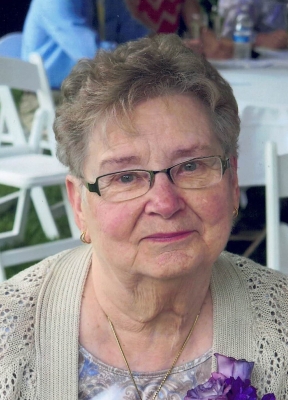 Carol J. Yauch age 92 of Cottage Grove, MN, died Friday, September 22, 2023, at Woodwinds Hospital in Woodbury, MN.
Carol was born April 14, 1931, in Elmwood, WI. She was the daughter of Bernard and Hazel, (Gunvalson) Ottman and grew up in Elmwood. She graduated from Elmwood High School in 1949. Carol married Charles "Bud" Yauch on March 24, 1951, in Elmwood. After marriage they lived in Texas for a short time while Bud was in the U.S. Army. After Bud was discharged from the Army, they made their home in St. Paul and raised their family. Besides raising her family, Carol later worked several jobs outside the home, including St Paul Public Schools in multiple schools, and J C Penney in the catalog dept.
In 1988 they returned to Elmwood where Carol was active in local town government, until 1997 when they moved to Hayward. In 2000, they moved to Menomonie until Bud's death in 2011. After Bud's death, Carol moved to Cottage Grove to be closer to her family, where she remained the rest of her life.
Carol enjoyed jig saw puzzles, and spent time with the many new friends in her senior living community at Presbyterian Homes-Norris Square. She enjoyed meals, bingo, cribbage and other games with them.
Carol was also a talented painter (water color & oil), did beautiful cross-stitch projects and extensively researched and documented both the Ottman and Yauch families.
Carol is survived by her seven children, Shari Colaizy of Menomonie, David (Elaine) of Arden Hills, MN, Diane (Mike) Hoffmann of Oakdale, MN, Doug (Doreen) of Brooklyn Park, MN, Mike (Maureen) of Cottage Grove, MN, Scott (Penny) of Arkdale WI, Julie (Tom) Schneider of Eagan, MN; 15 grandchildren and many great-grandchildren; Two sisters, Rosie Burke and Jane Weber, both of Milwaukee.
She is preceded in death by her parents, her husband, Charles "Bud" in 2011, a son-in-law, Robert Colaizy, two brothers, Leo and Leon Ottman, two sisters, Bernadine? Tommet and Joy Sahagian
Funeral services will be held at 1:00 PM Monday October 2, 2023, at Christ The Lord Lutheran Church in Cottage Grove, MN with Rev. Dave Barkow officiating. Burial will be in the Poplar Hill Cemetery, Township of Rock Elm, Elmwood, Wisconsin.
Visitation will be held from 11:00 AM Monday until the time of the services at Christ The Lord Lutheran Church in Cottage Grove.