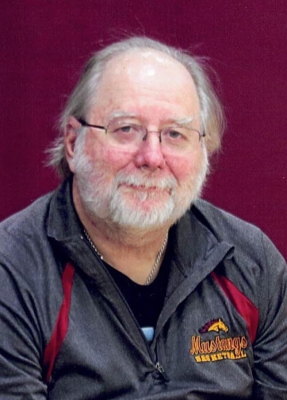 Michael "Mikey" C. Stori, age 69 of Menomonie passed away peacefully in his home with his wife, Sheila & stepson, Hugh by his side on Thursday, September 21, 2023. He had been suffering from Lewy Body Dementia for many years.
Mike was born August 11,1954 in Eau Claire to Carl & Doris (Mundinger) Stori. The family moved around Wisconsin before settling in Durand where he graduated from Durand High School in 1972.  He played in the band, was an excellent student and standout athlete in football, basketball & track. 
Michael loved to learn & continued his education attending a year at the UW-Eau Claire before transferring to District 1 Technical Institute (CVTC) in 1975 where he received his Associate Degree of Applied Science in Radiologic Technology. He started his career at St. Joseph's Hospital in Chippewa Falls. In 1984, Mike returned to CVTC & received his diploma in the Small Engine & Chassis Mechanics Program. He was also awarded the "Outstanding Student Award". In pursuit of academia, Mike discovered his passion for teaching & decided to enroll at UW Stout where he graduated with Honors with a BS Degree in Adult Vocational Technical Education with a Specialization in Training & Development. He then went on to earn his Masters in Vocational Technical Education.  He also received his certification in Computerized Tomography (CT) while working at St. John's Hospital in Maplewood, MN.  This passion for teaching, multiple degrees & certifications led to successful Radiography Programs at the Medical Institute of Minnesota in Bloomington, MN and the VA Medical Center in Minneapolis, MN.  As the Program Director of Radiography at the VA for nearly 20 years, Mike's students maintained a 95% success rate passing their ARRT boards with 98% job placement.  He was very proud of his students.
Mike was a man who had many loves in his life, with family being the most important to him. In addition to being an educator & friend, he was a son, brother, father, grandfather & husband/partner. 
He began his personal family journey with Sheila at the Arthur Murray Dance Studio where they met. Sheila recalls that Mike would arrive to dance classes in his cowboy boots, fishnet tank top, Harley Davidson jacket, leather chaps & carrying his saddle bags in tow over his shoulder & topped off with his bandana, chains and "shades".  As time went on, they also discovered that they shared a love of music, dancing, and eventually motorcycle rides on his 1975 Kawasaki 900.  Mike had always shared with friends that he would not marry until he got his Harley Davidson motorcycle. However, on Christmas Day, 1985 he proposed to Sheila and they were married in 1986. Sheila said she fell in love with Michael's smirk and sexy legs, plus she knew they would always be part of a team. This was the foundation of their 40 year relationship. Where you would find Sheila, you would find Mike In addition to gaining a wife, Mike also became a stepfather to Hugh and Jacob.  Shortly, thereafter, they were blessed with identical twins, Mikaela & Shea; additionally they hosted many foreign exchange students that they consider part of their family: Keiko from Japan, Philip, Mathis, Vanessa, Peter & Lutz from Germany.
As time passed, they welcomed four grandchildren, Emerson, Stella, Colin & Evie. In pursuit of his personal interests, Mike's hobbies included: tooling leather, target shooting, biking the Red Cedar Trail, tying flies, music including classic rock, big band & movie scores like the Lord of the Rings, reading & watching disaster & sci fi movie classics including Sharknado, Jaws & Tremors, and without a doubt, he was enthralled by all mysteries of the unknown especially relative to Sasquatch aka Bigfoot. 
Mike found inspiration for his love of photography through the photos he captured of nature & family, especially his grandchildren who made his heart full. He also enjoyed meeting Sheila at Menomonie High School & taking pictures of the many student activities that he contributed to the yearbooks, websites, sports programs, community media & to the participants themselves.  His photography touched the lives of many Menomonie families. 
In all of these settings, Mike was described as a quiet, gentle man who always had a smile on his face with a kind word to share.
Mike is survived by his wife, Sheila (Menomonie) and his daughters Mikaela (Nathan) & Shea (Patrick); stepsons – Hugh Williamson in Orlando, FL & Jacob Williamson in Madison, WI; 4 grandchildren – Emerson & Stella Weber and Colin & Evie Ross; siblings – 1 sister, Pamela; 4 brothers, Charles (Katherine), Richard (Nancy Fritsch), Scott & Tim (Deb); a niece, nephews, cousins, & other relatives.  He was preceded in death by his parents.
The family wishes to thank the many organizations that cared for Mike during this health journey, especially the Mayo Health System, Aveanna Home Care, St. Croix Hospice, Beta Sigma Phi, First Congregational UCC and the many family & friends who walked the journey with him as well. In the combined words of the family, " you always hope for more time; but we knew he was ready to go" so we say goodbye to the man who touched many lives in his journey here on earth & pray he was able to ride that dream Harley through the Gates of Heaven, hopefully catching a picture of Bigfoot along the way. May the angels enjoy waltzing across the stars with their new dance partner. It's time to spend your time fly fishing & relaxing as a Guardian Angel watching over your greatest LEGACY - your children & grandchildren.
Please feel free to share your memories / stories of our Stori, Mike.  You can email the stories to storiesaboutmichaelc@gmail.com.
A visitation will be held from 3:00 pm – 6:00 pm on Friday, October 27 at the Rhiel Funeral Home, 2317 Schneider Avenue SE in Menomonie, WI.  
The family is planning a Legacy service at the First Congregational United Church of Christ, 420 Wilson Avenue in Menomonie, WI on Saturday, October 28 at 2:00 pm.  Reverend Kathleen Remund will officiate.  This service will be live streamed.
The family prefers donations to be made in honor of Michael C. Stori to the charity of your choice.