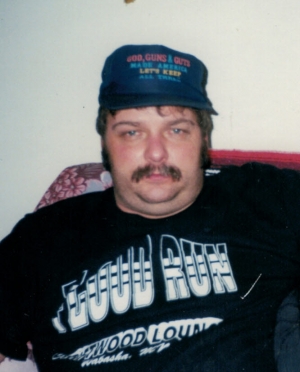 The Holt family is saddened to announce the sudden passing of Michael Gene Holt, 63 of Maiden Rock WI on October 9th2023.
Michael was born in Milwaukee WI on March 14th,1960 to Marshall and Sherry Holt. He was raised in Pepin WI and the surrounding communities for much of his childhood. Often working on the family farm milking and tending to the cattle. Mike graduated from Pepin High School in 1978.
In 1979 Michael married Gloria Larson and they had two sons: Jonathan and Scott Holt. At that time Michael farmed near Mondovi and went into the roofing business. After the dissolution of Michael and Gloria's marriage, Mike got his CDL and became an over-the-road truck driver.
For nearly 40 years Michael hauled produce from Wisconsin to the West Coast and back again, making lasting friendships across the country as he went.
In 1992 Michael married his longtime family friend Diane Lindquist. Together they had a son Michael (Mikey) Holt and Michael gained two stepsons Robert (Bobby) Finch and Timothy Finch. In 2000 Michael and Diane parted ways, remaining on good terms long after their sons were grown.
Later Mike met Anita Seipel and together they made a life on the Holt family land in the Rush River valley near Maiden Rock WI. Anita often joined Mike in the semi taking trips across the country sightseeing from the window of a big rig.
"Big Mike" as he became known to those who knew and loved him was a knowledgeable mechanic, a man who loved getting a great deal on vehicles and wasn't known to turn down a good meal. He was a kind and caring son, father, grandfather, uncle, friend, and later in life a self-appointed "supervisor" and delegator of all things involving manual labor.
As Mike continued to drive truck he owned multiple memorable semi-trucks and over the years he racked up hundreds of thousands of miles in his trucking career. He started his own business Checkered Flag Trucking and was able to work with his sons, Michael James Holt, and Timothy Finch. Mike continued to drive semi-truck doing what he loved right up until his final promotion to heaven.
Michael was preceded in death by his elder brother Mark Lloyd Holt (Rita), his maternal grandparents Claude Andrews and Lorraine (Ristow) Andrews, and his paternal grandparents Vernon Holt and Matilda (Kemp) Holt.
Mike is survived by his sons: Jonathan (Jessica) Holt- Sarasota, FL. Scott Holt-Albuquerque, NM. Michael (Ashley) Holt- Ellsworth, WI. His stepsons Robert (Bobby) Finch-Missoula, MT, and Timothy Finch-Hudson, WI. Parents: Marshall and Sherry Holt of Pepin, WI. Siblings: Darla Holt- Buffalo City, WI. Joe (Janela) Holt-Maiden Rock, WI. Laura (Jason) Camp- Maiden Rock, WI. Miles (Penney) Holt-Durand, WI. Many adorable loving grandchildren, step-grandchildren, nieces, nephews, and multitudes of friends and extended family. To know Mike was to be loved like family. He was a big man with a big heart.
Michael's family wishes to express sincere appreciation for the overwhelming outpouring of prayers, well wishes, and expressions of love during our time of bereavement. We will forever cherish the memories, laughter, and love of Big Mike until we meet again…He is set free!!!