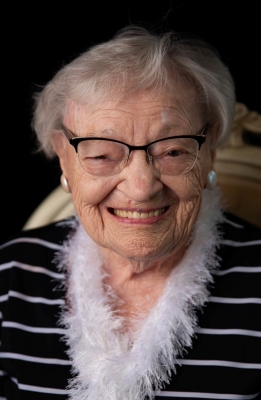 Margaret M Walsh, age 101, of Grace Willowbrook Assisted Living, 4868 Otteson Ln, Eau Claire passed away on Thursday October 19, 2023. She was born in the Township of Lucus, Dunn County on October 2, 1922, to William and Pearl (McMenamin) Duffy.
She attended St Joseph grade school and Dunn County Aggie School in Menomonie, WI. As a young adult she moved to the twin cities to work. She lived there for more than 50 years. She married Thomas Walsh on November 1, 1975, at St Paul's Cathedral in St Paul MN.
Marge moved to Eau Claire WI in 1989 to be near family. She volunteered at Sacred Heart Hospital when she first moved to Eau Claire. She delivered the newspapers and Meals on Wheels at her Senior Apartment Building until she was 90. She loved to decorate the halls, lobby and community room for each holiday in her apartment building. She especially loved to decorate for Christmas. Her beautiful Christmas trees, which were enjoyed by all who lived in her building. She was avid Twins and Vikings fan. She lived independently until she moved to Assisted Living at 100 and gave up driving on her 100th birthday. Her niece Deborah was there for her in her later years to help when needed.
Marge is survived by her sister Agnes Ward of Orange Park, FL, sister-in-law, Letty Duffy of Superior. She is also survived by her nieces, nephews and their families, and her cousin Shirley Hampton.
She was preceded in death by her beloved husband Thomas, parents William and Pearl Duffy, brothers, William and Francis Duffy, nephews Terrance Joe Duffy and Daniel Duffy, great nephews Phillip Esther and Patrick Duffy, and her brother-in-law John Ward.
Funeral Mass will be held at 11:00 AM Tuesday, October 31, 2023, at St Joseph's Catholic Church, 910 Wilson Ave, Menomonie WI. Visitation will be an hour prior to the service. Burial will be at St Joseph Catholic Cemetery in Menomonie.