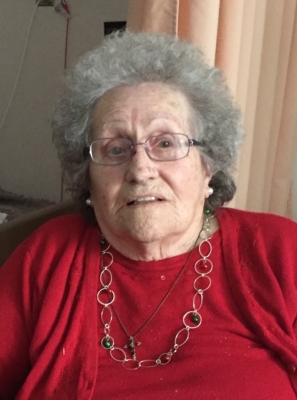 Alvira Magdalena Michaelson, age 99, of Elmwood, passed away on Sunday October 22, 2023, at Kinni Health & Rehab in River Falls surrounded by family.
Alvria was born May 25, 1924, on a farm in Trade Lake, WI to John and Oliva (Ginsterblum) Merten. She married Russell Michaelson July 8, 1950, in Centuria, WI. After marriage they made their home in Elmwood, raising five children and Russell worked as a lineman for Northern States Power Co.
Alvira grew up working hard on the farm. She loved talking about the hard life of farming with work horses along with growing and picking peas, beans, and cucumbers. Before marriage, Alvira worked in downtown St. Paul at Western Electric. After marriage, raising five children, she believed at the mother should stay home and raise their children. Alvira worked at Connell's Apple Orchard during apple picking time in her later years. She would eat an apple a day. Her favorite though was dill pickles and dill pickle juice.
Alvira and Russ loved spending time at their cabin on staples Lake near Danbury, WI. After Russell died in 1986, she would spend her summers at the cabin swimming and fishing for sunfish and northern. She had a way on how to catch those northern.
Alvira was an active member of her church and enjoyed reciting the most holy rosary. She enjoyed gardening, canning, long walks, and cooking for the family on holidays and spending time with family and friends.
Alvira moved to Kinni Health & Rehab in 2009, where she spent the remaining years of her life.
Alvira is survived by her five children, son, James (Ruth) of Hudson, daughters, Jeanne (Gary) Liddell of Eleva, Linda (Charles) Klein of The Villages, FL, Mary Ellen (Jeff) McCardle of Fort Myers, FL, and Rita (James) Kocian of River Falls; one sister, Mary Anderson; 15 grandchildren & eight great grandchildren.
She is preceded in death by her parents, husband Russell, brothers, Michael & John; sisters, Mary Margaret, Angela, Dorothy, Agnes, twin sister, Alvina, Lucy & Elizabeth.
Mass of Christian Burial will be held at 11:00 AM Friday October 27, 2023, at Sacred Heart Catholic Church in Elmwood. The burial will be in the church cemetery.
Visitation will be held one hour prior to services at the church on Friday