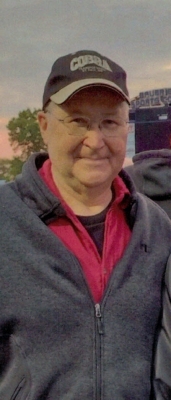 It is with deep sadness that we announce the passing of Douglas M. Brunner, (aka Hollywood, Num Nuts, Putz or whatever other endearing term he was referred to over the years!) on Saturday, October 21, 2023 after a very long, hard fight with cancer. Doug was born on July 6, 1955 to Robert & Edna (Ortwerth) Brunner in Ellsworth, WI where he grew up, went to school and graduated in 1974.
Doug was the second of eight children. He grew up on the family farm in Ellsworth, seeing many struggles, but also creating many memories with his siblings and parents. They had so much fun together on the farm and have so many memories. This is where he also found his love of horses. He would continue to love, ride and raise horses his whole life.
After graduation, Doug worked on a few local farms in the Plum City area before starting at Weiser Concrete where he worked for several years. He then went to work for Red Wing Shoe Co. for several more years, then to the sand company for a while, eventually going back to Red Wing Shoe Co. where he retired from in July 2020. He enjoyed retirement the best he could.
In 1977, Doug married Monica Caturia, they divorced a short time later. To this union, he was blessed with his daughter Heather. She was his pride and joy as well as one of his best friends until the day he died. He never missed an opportunity to spend time with her growing up-they were inseparable on their weekends, and their time together was cherished. He attended all of her sporting events, school activities and concerts. They always went out to eat somewhere afterwards to catch up from the last week or two they were apart. She never doubted the love of her 'Papa Bear'. They had many great memories together. They loved sharing and trying out a new bottle of wine, a good bloody mary a cold beer while normally picking on each other at all times and making each other laugh with their quick come backs and smart-alec comments. Their bond is one that they were both so lucky to have and both cherished. Doug would go to the ends of the earth for her and she would do the same, especially when it came to caring for him in the last few years when his cancer returned and as his health declined.
Doug married Judi (Waldvogel-Ebensberger) in 1995. He gained four more step daughters as well as a handful of grandchildren.
To anyone that knew him, there was no denying that he could be described as a very hard worker, funny, lover of music and a good movie, a loyal friend and willing to lend a helping hand whenever he could to whoever may have needed it. He loved riding horse over the years, creating so many life long friendships which led to MANY bon fires, sips of great whiskey and a good cigar, as well as lots of laughs and good jokes. Riding horse in Missouri was one of his favorite places to ride. He loved the scenery and the adventure, as well as the company with the group that went! All things he cherished and held very close to his heart. After retirement, and when his horses grew older and needed to retire right along with him, he found the love of his side by side and loved riding with the local UTV clubs. He always looked forward to Wednesdays in the summer for the weekly 'Geezer Ride' as his daughter called it! He and Judi enjoyed this time immensely and created many more friendships and memories!
Doug was huge lover of music. This led to him playing the drums and joining his dad, playing in Bob's Polka Band for several years. Later, he traded in the polka music for country music, playing in the band Horsin' Around in the 90's for several years as well. He loved this time in his life and his band mates! If there was live music playing somewhere, he always wanted to go 'check it out'!
One of Doug's greatest loves in his life was his grandson, Levi. Those two had a bond like no other. Constant shenanigans and picking on each other back and forth. There were often times, if you were around them, it was questionable on who was the kid in the situation! Levi was Doug's 'mini me' without a doubt. They were often found together on the weekends enjoying their large pancakes for breakfast at Molly's on Main, where grandpa would spend far too long talking with everyone there and Levi patiently waited to get on with their day so they could get the three days of work done that was all planned for one day! They loved watching a good western moving while eating popcorn and both falling asleep in the recliner every single time. They enjoyed many trail rides together, 4-wheeler and snowmobile rides, hunting together and countless hours of wrestling.
Doug will be missed by so many family and friends he's made on this journey called life, but especially by his wife, Judi. His daughter, Heather (Jon) Kelton and grandson/side kick, Levi Kelton as well as his 'pals' Maverick and Cody. His step daughters, Linda, Mary (Chris) Zimmerman, Suzie (Scott) Brunner and Chris (Joe) Hoyt. Step grandchildren Aaron, Ben, Mason, Madison, Riley and 'his girls' Shelby, Taylor (Mitch) and Tyler and one great grandson Peyton. His siblings, Ed (Miriam) Brunner, Julie (Tom) Gilles, David Brunner, Fred (Kim) Brunner, Paul (Shari) Brunner, Mary (Trace) Brunner and Jeanette (Jerry) Brunner. He is preceded in death by his parents and one brother, Carl in infancy.
Although he wasn't ready, he put up one hell of a fight and traded in his spurs for wings. Good ride, Cowboy, Good ride!
A Celebration of Life will be held from 1:00PM-5:00PM Saturday, November 4, 2023 at Molly's on Main in Plum City.
Rhiel Funeral Home & Cremation Services, Durand, is serving the family.