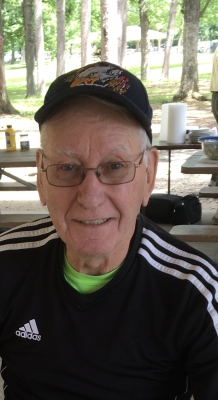 Robert Heagle, biology teacher, amateur ornithologist, avid environmentalist, and farmer, died Thursday Oct. 26 at Sacred Heart Hospital after a brief illness. He was 88. Robert resided in Eau Claire, Wisconsin. He was born June 28, 1935 in Menomonie, Wisconsin. Robert was the oldest son of John and Alice Heagle. He is survived by brothers John (Salem, OR), Larry (Eau Claire, WI) and Anson, (Algoma, WI).
Robert was passionately curious about the natural world. In particular his love of birds has been a constant thread in his life. Robert's interest in birds began as early as high school when he raised pigeons for fun in the barn of his parent's farm. Before attending college he spent time in the military serving at the conclusion of the Korean War from 1955-1956, only to return to the sciences pursuing a degree in agriculture and biology at UW River Falls. Later he also completed a M.S. at St. Mary's University in Winona, MN researching songbirds, eagles and raptors.
He moved to Tomah, Wisconsin to teach the Life Sciences at Tomah Senior High School. While a teacher there he met Judith Anzic, whose family immigrated from Slovenia, and was an English teacher at an adjacent high school in LaCrosse. The two were introduced by colleagues. They were married in 1965. Together they had three daughters, whom he is survived by, Karsen (Karen) Heagle, a Visual Artist and Adjunct Art professor, Brooklyn NY, Denise Heagle, English Language Development Teacher, Tucson, AZ, ( husband, Fred Tillman and daughter Lucy Tillman) and Mary Heagle, Project Manager at the Seattle Symphony, Seattle WA.
In 1975 Robert left teaching and moved his family to Menomonie to run his parent's dairy farm, upon their retiring. Through farming Robert reconnected directly with his familial roots and significantly with his love of natural interests: working with a herd of cattle, tilling the soil and harvesting the crops.
When Judith proceeded Robert in death in 1993 he left farming. Briefly he worked as a custodial assistant at St. Jospeh's Elementary School where he enthusiastically shared his bird stories with the school children. After Judith's death, birdwatching helped him considerably though the emotional tumult of her loss. He took part in the bird counts for the Wisconsin Dept. of Natural Resources. In the spring he looked forward to bike rides down the Red Cedar and Chippewa Valley where he encountered his favorite birds: the warblers, of them he said "They are the most colorful. They are like the butterflies of all birds."
During this time he met and married Dorothy Lind in Nov. 1999. Dorothy became a companion in birding, as well as a spirited traveling companion, with whom Robert shared many adventures. In addition Robert grew close with Dorothy's eight children, Theresa Kane, Kathryn Nale, Nancy Weber, Jerry Lind, Mary Enerson, Gina Pelke, Beth Hartinger, and Jennifer Weiss. Dorothy also preceded him in death in 2014.
Mass of Christian Burial will be held at 2:30 PM Monday October 30, 2023, at St. Joseph Catholic Church in Menomonie with Rev. Tom Krieg & Rev. John Heagle officiating. Burial will be at a late date in the church cemetery.
Visitation will be held one hour prior to services at the church on Monday.