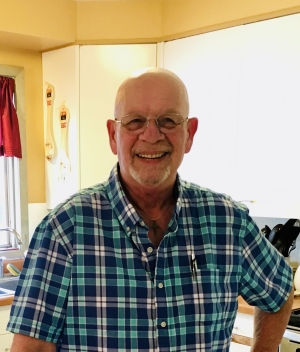 Harold "Hal" Charles Conti, Jr. passed away peacefully at home from complications of chronic heart failure on 11/4/2023.
Hal was born on 1/20/1944 to Harold and Angela Conti in Syracuse, NY. He along with his sister, Linda (Susman) Conti had a nice childhood surrounded by a large Italian Catholic family and all of the traditions that came with that community. Hal was active in the church growing up as an altar boy and even going as far as considering the seminary until he met our mom, Nancy Stainton in 1965. Hal was a soda jerk at a local drugstore and our Aunt Chris (Christine Dearlove), mom's sister, decided they had to meet. Much to our Grandmother's chagrin, the seminary didn't stand a chance after he met Mom. It was a yearlong courtship until Hal proposed to Nancy on Christmas Eve night, the two were wed seven months later. Hal went to school to be a drafter and was active as a ham radio operator. Soon after joining the workforce Hal found sales and he spent the next few decades working for a few different large companies opening and managing cheese and candy shops all over the country, with the family in tow. Hal was often at work, but never lost sight of his most important job which was being a good husband and father to his and Nancy's five kids. Together they ensured that the kids were involved in all of the things, from sports to Scouts and church and music and most importantly he taught them life lessons. There were many lessons at home that resulted in some of Hal's most infamous sayings, like "cash is king" where his kids all learned the importance of working, earning and most of all to be a good tipper. He also could be heard declaring, "if you leave hungry it's your own damn fault", you see Hal and Nancy always had an open door and a large spread of food, friends and family were always coming and going and were always encouraged to eat. Later in life Hal opened his own business, Video Duplication Specialists in Rockford, IL where he was able to be his own man and run a business by his terms and if you didn't learn a work ethic from Hal in those days, you just weren't paying attention. He was the kind of man that his kids aspired to be, it's hard to know who was prouder, Hal of his kids or his kids of Hal.
When Hal and Nancy retired to Menomonie, WI they spent their golden years with family and going to grandkids' sporting events. Hal especially enjoyed going to the lake, dishing out Grandpa like wisdom to whomever would listen and paling around with his best buddy, yorkie terrier, Roxy. Hal was a man dedicated to his family, that is what defined his life; when Nancy was sick in 2020 he was by her side and now they are together again in Heaven, Thanks Be to God.
Hal was preceded in death by his wife, Nancy J. Conti, his parents, Harold and Angela Conti and his brother-in-law Robert Susman. He is survived by his sister, Linda Susman (Albany, NY) and his five children Harold (Janice) Conti, Mapleton, MN; Craig (Stacy) Conti, Chanhassen, MN, Adam (Michelle) Conti, Rockford, IL, Erika (Eric) Sutherland, Menomonie, WI, Nick (Megan) Conti Chippewa Falls, WI, six grandchildren and many nieces, nephews, cousins and in-laws.
The family would like to thank the staff from St. Croix Hospice for their compassion and direction in the last month of Harold's life.
A Celebration of Life will be held from 11:00AM-12:00PM Thursday, November 9, 2023 at the Rhiel Funeral Home in Menomonie. Burial will follow in the Evergreen Cemetery.
Rhiel Funeral Home & Cremation Services, Menomonie, is serving the family.