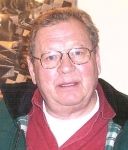 Dateline: Menomonie
Donald A. Fanetti age 67 of Menomonie,
Died: Thursday May 28, 2009 at his home in the Township of Red Cedar, rural Menomonie.
Don was born October 8, 1941 in Chippewa Falls but grew up in Bloomer. He was the son of Tony and Florence (Bohl) Fanetti. Don married Marilyn Hribar on December 28, 1985. Don was raised on a farm and loved driving his Allis Chalmers tractors, farming and trucking. At the age of 19 he moved to the Milwaukee area. Being a self motivated man, and having only a ninth grade education, Don had three of his own trucks by the age of 23. He hauled hot mix for a year. In 1964 Don served in the National Guard. Don owned and operated a specialized heavy hauling interstate trucking business called Structural Transport, Inc. for 45 years. His specialty was hauling 140,000 pound, 16 ft. high and 14ft. wide transformers into the Chicago Loop. Don's true love was farming, after downsizing his company, in 2005 he moved to Menomonie to Rusk Prairie Farms. Don and Marilyn were the hosts of Farm Progress Days in Dunn County in 1998. Don loved his Allis Chalmers, Fords, racing his airplane and cars. Don won the ASA Stock Care Championship in 1995.
Don is survived by his wife, Marilyn and his beloved dogs, (his favorite dog, Jake.); a brother, Daryl (Joan) Fanetti of Bloomer; four sisters, twin sisters, Merlene (Thomas) Schwartz and Sherlene (Roger) Schroetter both of Chippewa Falls; Sr. Jenada Fanetti SDS of Mt. Calvary; Carol (Herb) Vahlenkemp of Bloomer; sister-in-law, Gin Fanetti of Bloomer; a brother-in-law, Jim Hilger of Custer; many nieces, nephews and other relatives and friends. He is preceded in death by his parents, two brothers, Gene and Lamoyne (in infancy), and a sister, Roxanne Hilger.