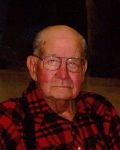 Alvin C. Iverson, age 92 of Plum City, died Sunday, April 10, 2011 at the Plum City Care Center with his family by his side.
Alvin was born May 18, 1918 in Cook County Illinois. He was the son of Carl and Hannah (Olson) Iverson. At two years old, Alvin moved with his family to a farm in Plum City, where he lived his entire life. He attended Nerkie Hill Country School and then went to work on the family farm. Alvin married Grace Caturia on April 12, 1939 in Arkansaw. After marriage, they took a trip west and worked temporary jobs in wheat fields and apple orchards, before returning home and purchasing the home farm in Plum City. Alvin farmed and raised his family in Plum City. He sold the farm to his son Dennis in 1989 but his heart always remained on the farm.
Alvin loved to fish, especially with Dwight Caturia, drive his John Deere Gator around the farm community, read country western books, and playing solitaire. Alvin's grandchildren and great grandchildren were the joy of his life.
Alvin is survived by his children, Linda (Lloyd) Perry of Forest Lake, MN, Arlene (John) Gallas of White Bear Lake, MN, Nancy (John) Bergum of Wyoming, MN, Dennis (Nancy) of Plum City, Roger (LeAnn) of Denver, CO and Lorilee (Biju) Kewalram of Long Beach, CA, 11 grandchildren, 15 great grandchildren, one sister, Evelyn Collins of Plum City, many other relatives and close friends. He is preceded in death by his parents, his wife Grace, a grandson, Joseph Gallas and one niece, Joan Collins.