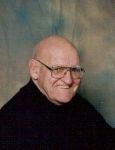 William A. VanSchoonhoven age 86 of Plum City
Died: Monday December 26, 2011 at his home, surrounded by his family.
Bill was born December 27, 1924 at home in the Salem Township of Pierce County. He was the son of Carl and Minnie (Hase) VanSchoonhoven and grew up in that community all his life. At the age of nine he left home and lived with his grandparents, where he helped them on the farm. As a young adult he continued farming with his grandparents. He married Ramona Hopwood May 31, 1950 at the Little Brown Church in Vale in Nashua, Iowa. After marriage they purchased a farm in the Township of Union where they farmed and raised their family. Bill farmed for many years until ill health forced him into retirement. During his working years, Bill also drove school bus for the Plum City School District, dug graves and served on the Ono cemetery board for many years. Bill also worked for Binkowski Oil and delivered trucks for Boyer Ford in the Twin Cities.
Bill loved playing softball, playing cards, and spending time with family and friends. Bill was a devoted grandfather and made sure that his grandchildren knew how to play cards.
Bill is survived by his wife, Monie, five children, Charles (Mary) VanSchoonhoven of Prescott; Denise (Terry) Pelzel of Maiden Rock; Lori (Dave) Klein of Durand; Gary (Karen)VanSchoonhoven of Cross Plains; Rhonda (Troy Gansluckner) VanSchoonhoven of Maiden Rock; 14 grandchildren, Greg (Jaci), Eric (Katherine), Shannon (friend Tim), Mike (Lisa), Scott (Casey) Brice, Jon, Angie, Emily, Nicole, Courtney, Brett, Noah and Elijah; nine great grandchildren; two brothers, Gerald (Joanne)VanSchoonhoven of Turtle Lake; Marlyn (Sue) VanSchoonhoven of St. Paul Park, MN; three brothers-in-law, Norbert Raesler of St. Paul, MN; Morse "Hoppy" (Wanda) Hopwood of Spooner; Larry (Cathy) Hopwood of Elmwood; two sisters-in-law, Marilyn (Robert) Slonecker of Sterling, CO; Karen (Jim) Olek of Osakis, MN several nieces, nephews and other relatives and friends.
He is preceded in death by his parents, two children, Scott and Kay; two sisters Juanita McMahon and Marjorie Raesler; four brothers, Robert, Neil, Jack and Gene.
The family would like to thank Bill's caregivers from Hospice, Donene, Kim, Abby, Julie, Beth, Pam, Penny, Jean, for their wonderful care they gave to him during his illness.