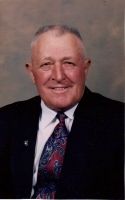 Edmund J. Weiss, age 86 of Durand,
Born: May 11, 1921
Died: November 19, 2007 at Luther Hospital in Eau Claire.
Edmund was the son of John W. and Anna (Hayden) Weiss. He was born and raised in the Town of Lima, Pepin County, rural Durand. He attended school at Lima and graduated from Sacred Heart High School. Edmund married Goldene Brunner June 6, 1944 at Lima. After marriage they lived and farmed in the town of Lima. Edmund farmed for 37 years and then sold the farm to his son Randy. He continued to help on the farm for 20 years.
Edmund was very active at the Holy Rosary Catholic Church. He served on the board of directors for the Catholic Family Life Insurance Company for eight years and also served many years as the secretary for the Catholic Family Insurance, Lima Branch. Edmund enjoyed fishing, playing cards but most of all, spending time with family and friends, especially the love of his life Goldy.
Edmund is survived by his wife of 63 years, Goldene, two daughters, Rhonda (Robert) Braun of Cottage Grove, MN and Diana Thompson (Friend Benjamin Nixon) of Shoreview, MN, four sons, Larry (Beverly) of Lake Elmo, MN, Edmund Jr. (Debra) of Woodbury, MN, Richard of Phoenix, AZ and Randall (Colleen) of Durand, 12 grandchildren, five great grandchildren, one sister Blanche Prissel of Durand, two brothers, John Weiss Jr. and Hubert Weiss both of Durand. He was preceded in death by his parents, one daughter, Mary Jean Patterson, two sisters, Marcella Weber and Marion Weissinger, two sons-in-law, Daniel Thompson and William Patterson.