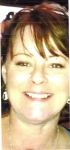 Shanna F. Vogel, age 44 of Maiden Rock, passed away unexpectedly Thursday, February 13, 2014 at her home in Maiden Rock.
Shanna was born on June 23, 1969 in Royal Oak, Michigan. She was the daughter of Larry L. and Gayann (Huffman) Blackett. Shanna grew up in Royal Oak and graduated from Kimball High School in 1987. After high school, she worked at the Corvette division of General Motors. In 2004, Shanna moved to Maiden Rock where she made her home the rest of her life.
Shanna liked to cook, read and take care of her dogs. She was a very spiritual person who enjoyed bible studies. Shanna was a member of the Ezra Parker Chapter of the Daughters of the American Revolution. Everyone loved her smile and personality wherever she went. Most of all, Shanna loved to spend time with family and friends.
Shanna is survived by her daughter; Ashley Vogel of Maiden Rock, her parents; Larry L. and Gayann Blackett of Royal Oak, MI, two brothers; Steven (Kim) Blackett of Sterling Heights, MI and Scott (Carol) Blackett of Davisburg, MI, Fiancé; James E. Niedfeldt of Maiden Rock, nieces, nephews, other relatives and friends.