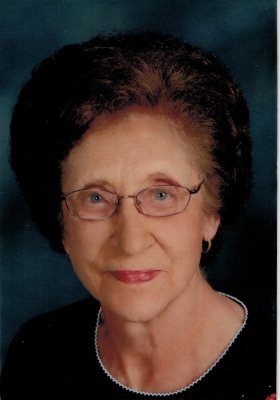 Marie E. Howe age 92 of Menomonie, died Thursday April 30, 2015 at The Neighbors of Dunn County in Menomonie.
Marie was born October 27, 1922 in the Town of Weston, Dunn County. She was the daughter of Joseph and Margaret (Hofacker) Noll and grew up in the Weston community. Marie married Eugene C. Howe October 13, 1949 in Menomonie. After marriage they made their home in Menomonie. In 1956 they moved to Hatchville where they lived above the cheese factory. Besides raising her family, she did seasonal work at Connells Apple Orchard and Lange's Canning in Menomonie. In 1971 Gene and Marie purchased the Hatchville Cheese Factory, where Marie was the bookkeeper, and they operated the business until 1985. Marie continued to operate the cheese store until 2000. In 2001 they sold the facility and moved to Menomonie. Gene died in 2005, and for the past three years, Marie has been a resident of The Welcome Home Assisted Living in Elmwood, the Dunn County Health Center and The Neighbors of Dunn County.
Marie enjoyed her flower gardens, counted cross stitch, doing jig saw puzzles, playing cards and traveling.
Marie is survived by two daughters, Carole Hintzman of Chippewa Falls, Jeanne (James) Kremer of LaCrosse; two sons, Steve (Diane) of Menomonie, William (Deborah) of Spring Valley; nine grandchildren, Scott ( Jessica) Hitnzman, Valerie (Steve) Wing, Kari (Jose) Velasco, Kraig, Kristofer (Jaimie) , Daniel, Sarah Howe, Jackie Kremer, Justin (Amanda) Kremer; seven great grandchildren, Alexander, Allison, and Samuel Wing; Christopher Velasco, Carter and Beckham Howe, Emmalyn Hintzman and other relatives and friends.
She is preceded in death by her parents, husband Eugene in 2005, son-in-law, Lonnie Hintzman, infant sister, Helen, a sister Ida Noll; two brothers, Edward and Clarence Noll.
Funeral services will be 11:00 AM Tuesday May 5, 2015 at St. Joseph Catholic Church in Menomonie with Rev. Kevin Louis officiating. Burial will be in St. Henry's Cemetery in Eau Galle.
Visitation will be held from 4:00 to 7:00 PM Monday at Rhiel Funeral Home in Menomonie and one hour prior to services at the church on Tuesday.